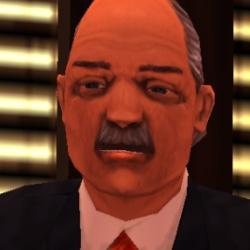 Salvatore Leone appears as a Major Character in GTA Liberty City Stories.
Salvatore Leone is the don of the Leone Family, a major Mafia family based in Liberty City.
He welcomes Toni Cipriani back to Liberty City, but assigns him to Vincenzo Cilli, who dislike each other. After being betrayed by Vincenzo and after killing him, but also helping Salvatore with multiple tasks and problems, Toni earns the respect and appreciation of Salvatore. On multiple occasions he is saved by Toni from trouble involving the rival crime families, such as the Sindaccos, the Forellis or the Sicilian Mafia.
The character of Salvatore Leone also appears in GTA San Andreas and Grand Theft Auto III.
Salvatore Leone: Character Info
Role

Major Character

Gender

Male

Nationality

ItalyUnited States

Location

Salvatore's Gentleman Club, Portland Beach, Portland

Occupation

Don of the Leone Family

Also Known As

Sal; Uncle Sal; Mr. Big

Performer / Actor

Frank Vincent

Family

Affiliation

Donald LoveToni CiprianiVincenzo Cilli

Vehicles

BansheeLeone SentinelPCJ 600
Salvatore Leone: Appearances
Salvatore Leone Missions in GTA Liberty City Stories:

Appearances in Story Missions: