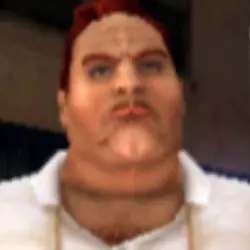 Giovanni Casa appears as a Minor Character in GTA Liberty City Stories.
Giovanni Casa is the owner of one of Liberty City's most famous delis, Deli-rium Delicatessen.
Ma Cipriani believes him to be a good man, but he is secretly interested in infantilism and is actually a coward. Toni wants to show his mother what Giovanni really is like, so he takes a picture of him picking up hookers while wearing a diaper. Despite this, his mother only begins disliking him when he stops paying protection money. Toni takes him out for not paying his taxes by beating him to death with a fire axe, then placing his corpse into a saw grinder.
Giovanni Casa: Character Info
Role

Minor Character

Gender

Male

Nationality

ItalyUnited States

Location

Portland, Liberty City

Occupation

Deli-rium Delicatessen

Also Known As

Choc-Choc

Performer / Actor

Joel Jones

Affiliation

Ma Cipriani Toni Cipriani

Vehicles

Pony
Giovanni Casa: Appearances
Appearances in Story Missions: