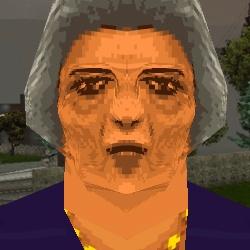 Ma Cipriani appears as a Major Character in GTA Liberty City Stories.
Ma Cipriani is the mother of Toni Cipriani. She constantly compares Toni to his father and other men in Liberty City, saying Toni cannot match up to them.
Therefore, Toni sets out to prove his mother wrong, but anything he tries to do only leads to more anger from his mother.
The character of Ma Cipriani also appears in Grand Theft Auto III.
Later, Ma calls a hit on Toni, and only calls it off after Toni becomes a made man in the Leone Family.
Ma Cipriani: Character Info
Role

Major Character

Gender

Female

Nationality

ItalyUnited States

Location

Momma's Restaurante, Saint Mark's, Portland, Liberty City

Occupation

Momma's Restaurante

Also Known As

Ma; Momma; Mamma

Performer / Actor

Sondra James

Family

Vehicles

Leone Sentinel
Notes

Physically appears in the game only one time, in the Dead Meat mission. There, she uses a generic pedestrian model.
Ma Cipriani: Appearances
Ma Cipriani Missions in GTA Liberty City Stories: