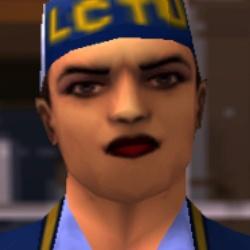 Jane Hopper appears as a Minor Character in GTA Liberty City Stories.
Jane Hopper is a corrupt Liberty City Trade Union boss, and is the cause of the ferry worker strike in Liberty City.
She is relentless and refuses to back down, only claiming to stop if she is payed by Leone Don Salvatore Leone. Even after receiving payment, she does not conclude the strike, and expects an even bigger payoff from the city governing body. She only stops the strike after Toni impersonates her limousine driver and scares her off.
Jane Hopper: Character Info
Role

Minor Character

Gender

Female

Nationality

United States

Location

Portland, Liberty City

Occupation

Union Boss

Performer / Actor

Gordana Rashovich

Affiliation

Ned Burner

Vehicles

Stretch
Jane Hopper: Appearances
Appearances in Story Missions: