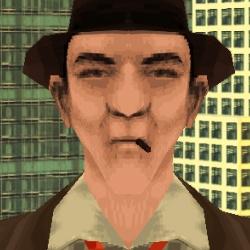 Ned Burner appears as a Major Character in GTA Liberty City Stories.
Ned Burner is a reporter for the Liberty City "Liberty Tree" newspaper. He managed the Liberty Tree's e-mail account, and used it to conduct corrupt arrangements, such as taking bribes from Leon McAffrey. He held information regarding Roger C. Hole's corrupt administration, but had been lying on his news reports to cover it up.
In 1998, he impersonates a priest and tricks Leone Family member Toni Cipriani to cause chaos in the city. He also hires Toni to kill a federal witness, steal some diamonds and kill three film stars.
Later, he witnesses the murder of Avery Carrington, and is killed by Toni Cipriani on orders of Donald Love.
Ned Burner: Character Info
Role

Major Character

Gender

Male

Nationality

United States

Location

Staunton Island, Liberty City

Occupation

Journalist

Also Known As

Father Ned

Performer / Actor

Peter Bradbury

Vehicles

Faggio
Ned Burner: Appearances
Ned Burner Missions in GTA Liberty City Stories:

Appearances in Story Missions: