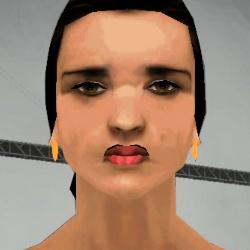 Maria Latore appears as a Major Character in GTA Liberty City Stories.
Maria Latore is the wife of Leone Family Don Salvatore Leone.
Their relationship is extremely rocky, the two living separately, with Maria becoming addicted to drugs. She begins to cheat on Salvatore with various men, including Liberty City Bikers leaders Cedric Fotheringay, but also attempts to sell Leone Family secrets to Ned Burner.
Toni Cipriani is assigned to chaperone her, and this often results in him getting Maria out of trouble.
The character of Maria Latore also appears in GTA San Andreas and Grand Theft Auto III.
After multiple tasks completed by Toni, Maria begins to develop feelings for him, but changes her mind once she realizes that Toni does not have much money.
Maria Latore: Character Info
Role

Major Character

Gender

Female

Nationality

ItalyUnited States

Location

Apartment in Saint Mark's, Portland, Liberty City

Also Known As

Maria La Torra; Maria Leone; Mad Maria; Queen of Sheba

Performer / Actor

Fiona Gallagher

Family

Affiliation

Cedric FotheringayToni Cipriani

Vehicles

Stretch
Maria Latore: Appearances
Maria Latore Missions in GTA Liberty City Stories:

Appearances in Story Missions: