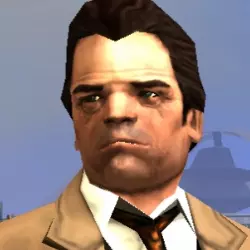 Ray Machowski appears as a Minor Character in GTA Liberty City Stories.
Ray Machowski is a member of the Liberty City Police Department, teamed with corrupt officer Leon McAffrey. He is introduced to Toni Cipriani by Leon, and is at first reluctant to work with a criminal, but changes his attitude up to 2001.
The character of Ray Machowski also appears in Grand Theft Auto III.
Ray Machowski: Character Info
Role

Minor Character

Gender

Male

Born In Year

1958

Nationality

United States

Location

Staunton Island, Liberty City

Occupation

Police Officer

Also Known As

Mr. Hip

Performer / Actor

Peter Appel

Affiliation

Leon McAffrey
Ray Machowski: Appearances
Appearances in Story Missions: