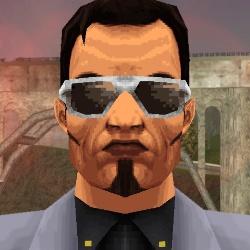 Paulie Sindacco appears as a Major Character in GTA Liberty City Stories.
Paul "Paulie" Sindacco is the Don of the Sindacco Family and owner of Caligula's Palace and Paulie's Revue Bar.
Paulie, having moved from Las Venturas, is constantly on the move from Liberty City to San Andreas. This constant movement, and his rare presence in Liberty City earns him the "Invisible Don" nickname.
Salvatore Leone, worried about the increasing power of the Sindaccos, convinces a high-ranking member of the Sindaccos, J.D. O'Toole to turn against his gang and assist the Leones. Using him as an informant, Toni Cipriani begins to sabotage the Sindacco Family, prompting a war between the two gangs.
After learning about who is sabotaging his Family, Paulie pulls strings with the new mayor, Miles O'Donovan, leading to Salvatore's arrest. For this, Salvatore orders Toni to assassinate Paulie, which he manages to do during an attempted escape to Las Venturas.
Paulie Sindacco: Character Info
Role

Major Character

Gender

Male

Nationality

ItalyUnited States

Location

Liberty City

Occupation

Don of the Sindacco Family

Also Known As

Paulie; The Invisible Don

Performer / Actor

Jeff Gurner

Affiliation

Joseph Daniel O'Toole

Vehicles

Sindacco ArgentoSpeeder
Paulie Sindacco: Appearances
Appearances in Story Missions: