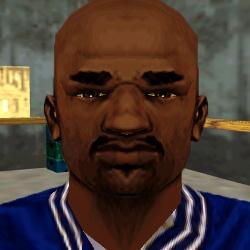 8-Ball appears as a Minor Character in GTA Liberty City Stories.
8-Ball is an explosive expert and firearms dealer in Liberty City. He establishes contacts with various influential poeple, including businessman Donald Love, who wants a van filled with explosives to be used to destroy the Fort Staunton district of Staunton Island.
The character of 8-Ball also appears in Grand Theft Auto III.
8-Ball: Character Info
Role

Minor Character

Gender

Male

Nationality

United States

Location

Saint Mark's, Portland, Liberty City

Occupation

8-Ball Autos

Performer / Actor

Keith "The Guru" Elam

Affiliation

Donald LoveSalvatore LeoneToni Cipriani

Vehicles

Rumpo
8-Ball: Appearances
8-Ball Missions in GTA Liberty City Stories: