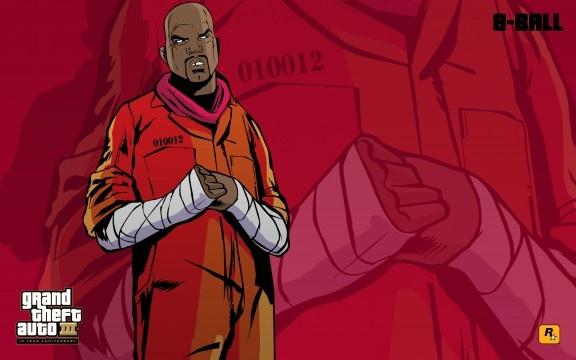 8-Ball appears as a Major Character in Grand Theft Auto III.
8-Ball is an explosives expert and owner of 8-Ball Autos.
He befriends Claude when they both make an escape from a convoy that was transporting them to prison.
8-Ball helps Claude get back on his feet by finding him work with the Leone Family. He also helps out Claude with some of his criminal activity.
The character of 8-Ball also appears in GTA Liberty City Stories.
8-Ball: Character Info
Role

Major Character

Gender

Male

Nationality

United States

Location

Saint Mark's, Portland, Liberty City

Occupation

Owner of 8-Ball Autos

Also Known As

8-Ball

Performer / Actor

Keith "Guru" Elam

Vehicles

Rumpo
8-Ball: Appearances
8-Ball Missions in Grand Theft Auto III:

Appearances in Story Missions:
8-Ball Artworks