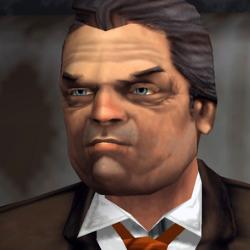 Ray Machowski appears as a Major Character in Grand Theft Auto III.
Ray is a corrupt LCPD officer and also acts as an informant to the Yakuza.
Due to his corruption, Ray will often meet Claude at Belleville Park to give him jobs and not draw attention to himself.
He is increasing paranoid due to the CIA investigating him for his affiliation with the Yakuza.
The character of Ray Machowski also appears in GTA Liberty City Stories.
Ray Machowski: Character Info
Role

Major Character

Gender

Male

Born In Year

1958 (43 years old in 2001)

Nationality

United States

Location

Staunton Island, Liberty City

Occupation

Police Officer

Also Known As

Mr. Hip

Performer / Actor

Robert Loggia

Vehicles

Patriot Police Car

Weapons

Pistol
Ray Machowski: Appearances
Ray Machowski Missions in Grand Theft Auto III:

Appearances in Story Missions:
Ray Machowski Artworks