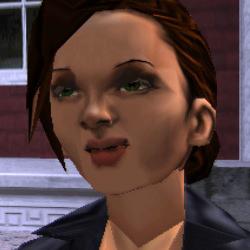 Catalina appears as a Major Character and Antagonist in Grand Theft Auto III.
Catalina is Claude's former girlfriend that travels with him to Liberty City.
In the opening stages of the game, Catalina betrays Claude during a bank robbery, leading to him getting arrested.
Catalina then goes on to join the Colombian Cartel and become one of the largest drug dealers of SPANK in Liberty City.
The character of Catalina also appears in GTA San Andreas.
Catalina: Character Info
Gender

Female

Nationality

ColombiaDominican RepublicMexico

Location

Cartel Mansion, Cedar Grove, Shoreside Vale, Liberty City

Occupation

Criminal; Colombian Cartel

Performer / Actor

Cynthia Farrell

Family

Affiliation

Claude Colombian Cartel Curly Bob Miguel

Vehicles

Banshee Cartel Cruiser
Catalina: Appearances
Catalina Missions in Grand Theft Auto III:

Appearances in Story Missions: