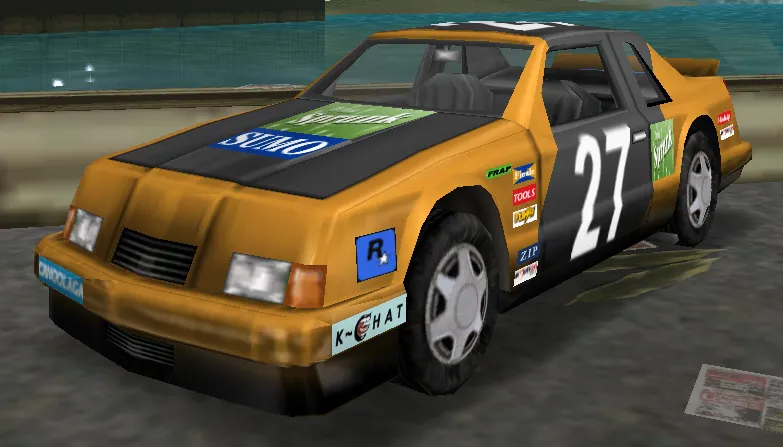 The Hotring Racer is a Sports Car featured in GTA Vice City.
The design of the Hotring Racer in GTA Vice City is based on a real-life 80s Stock Car; Ford Thunderbird Gen IX. The top speed of the Hotring Racer is 136.70 mph (220.00 km/h).
This vehicle also appears in GTA San Andreas.
The Hotring Racer cars are used as part of the "Hotring" side mission, coming in three different variants.
Hotring Racer: GTA Vice City Vehicle Info
Mass / Weight

1,600

KG

Drive Train

RWD

Gears

5
Hotring Racer: GTA Vice City Stats
Speed

100.00

Cool Factor

90.00

Handling

80.00

Cornering

70.00

Overall

85.00
Hotring Racer: GTA Vice City Appearances
Hotring Racer Spawn Locations in GTA Vice City

Where to find the Hotring Racer in GTA Vice City:

Second Floor of Sunshite Autos after finishing the fourth import side-quest

Spawn Hotring Racer Cheat Code

You can use this Cheat Code to spawn the Hotring Racer in GTA Vice City:

PlayStation - Hotring Racer A

R1

CIRCLE

R2

RIGHT

L1

L2

X

X

SQUARE

R1

Xbox - Hotring Racer A

RB

B

RT

(Black)

RIGHT

LB

LT

(White)

A

A

X

RB

PC - Hotring Racer A

GETTHEREVERYFASTINDEED

PlayStation - Hotring Racer B

R2

L1

CIRCLE

RIGHT

L1

R1

RIGHT

UP

CIRCLE

R2

Xbox - Hotring Racer B

RT

(Black)

LB

B

RIGHT

LB

RB

RIGHT

UP

B

RT

(Black)

PC - Hotring Racer B

GETTHEREAMAZINGLYFAST

Notable Owners:

Tommy Vercetti

Appearances in Story Missions: