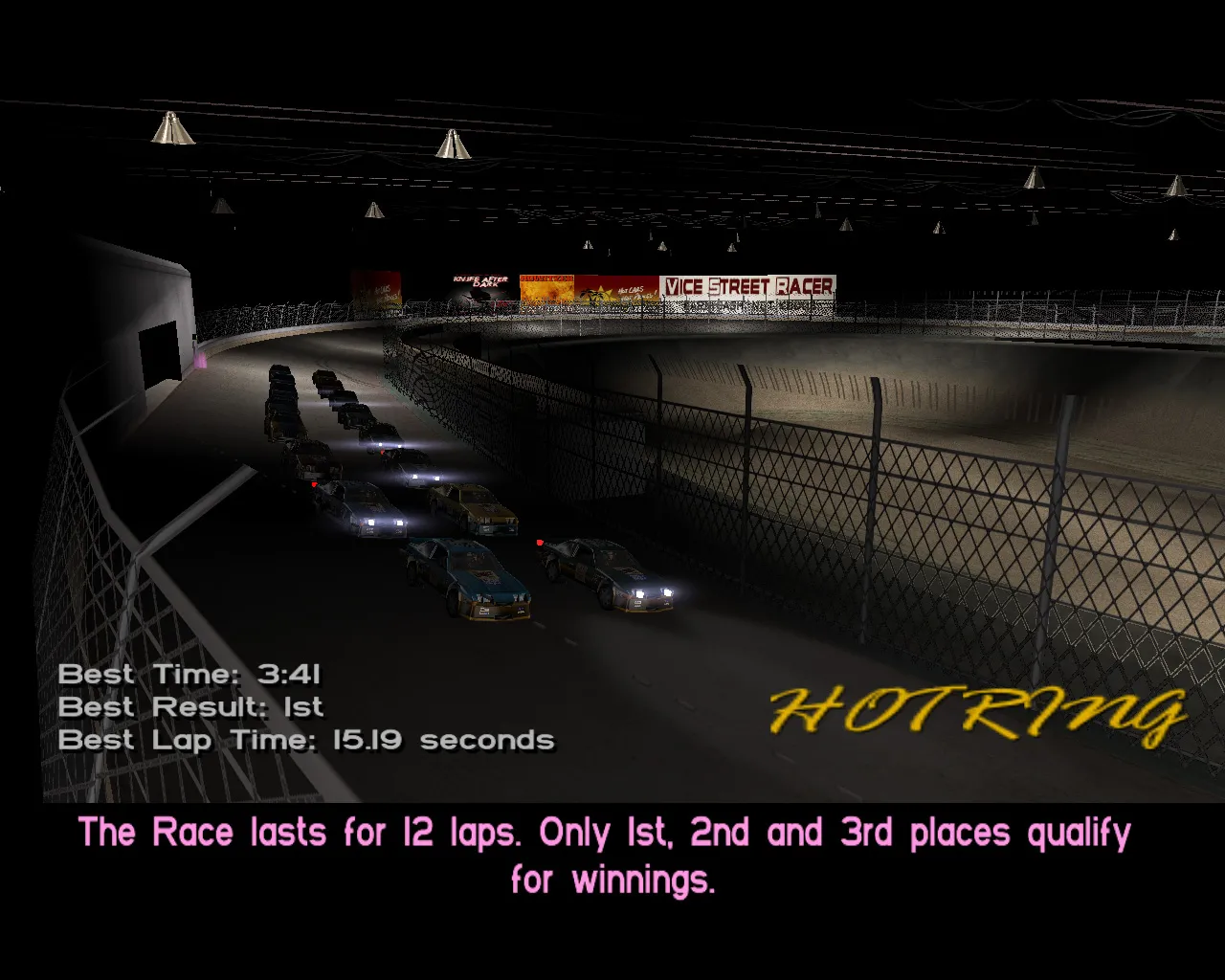 Hyman Memorial Stadium Events are an Activity in GTA Vice City.
Take parte in three events a the Hyman Memorial Stadium: Hotring, Bloodring and Dirtring.
This is an optional endeavor, but it is required for 100% completion of the game. It's not time-sensitive, meaning it can be played at any point, even after the main storyline is completed.
This side activity is also present in GTA San Andreas.
Hyman Memorial Stadium Events -
Activity

Details:

The "Hyman Memorial Stadium Events" are a series of side-mission in the Hyman Stadium, where the player has to participate in 3 stadium events - a demolition derby, a stock car race and a checkpoint mission.

The events are rotated every day, and are only available to complete between 20:00 and 00:00 (Hotring → Bloodring → Dirtring)
Hyman Memorial Stadium Events: Hotring
The Hotring is an endurace race where the player competes in a Hotring Racer against 15 other cars in a 12-lap race. The player starts in the last row, and has to finish in 3rd position to pass the mission.
The player's vehicle has a Health Bar and is very weak. There exists a pit area where the player can repair their car if it is too damaged.
Depending on the player's finishing position, they will be awarded the following cash prizes:
1st - $5,000
2nd - $1,500
3rd - $500
Hyman Memorial Stadium Events: Bloodring
The Hotring is a demolition derby where the player competes in a Bloodring Banger against other cars. The player begins with a 30-second timer and can collect checkpoints to increase the timer by 15 seconds. To complete the mission, the player has to raise the timer to 1 minute. Every time the player successfully completes the mission, the next playthrough will have the limit increased by 1 minute, up to a maximum of 6 minutes required.
The player's vehicle will be attacked by other vehicles, and the mission will fail if the timer runs out or if the player's car is destroyed.
Upon completion, the player will be awarded $1000, multiplied by the number of minutes the mission required for completion. Additionally, after the first completion, two Bloodring Bangers will spawn on the souther side of the Hyman Memorial Stadium's entranceway.
Hyman Memorial Stadium Events: Dirtring
The Dirtring is a checkpoint mission, where the player has to collect 32 checkpoints placed in difficult areas of the Hyman Stadium, using a Sanchez dirt bike. Many of the checkpoints require the player to complete stuns to acquire.
Although there is no time limit for the mission, the rewards offered depend on the time taken to collect the checkpoints, therefore:
Under 5 minutes: $50,000
Between 5 and 10 minutes: $10,000
Over 10 minutes: $5,000
Hyman Memorial Stadium Events: Mission Info
Mission Type

Activity

Location

Hyman Memorial Stadium

Required for 100%

Yes
Unlocked Items

Bloodring Banger (Oceanic)
Hyman Memorial Stadium Events: Video Walkthrough
Original Game Walkthrough (PS2, Xbox, PC):
The Definitive Edition Remaster Walkthrough: