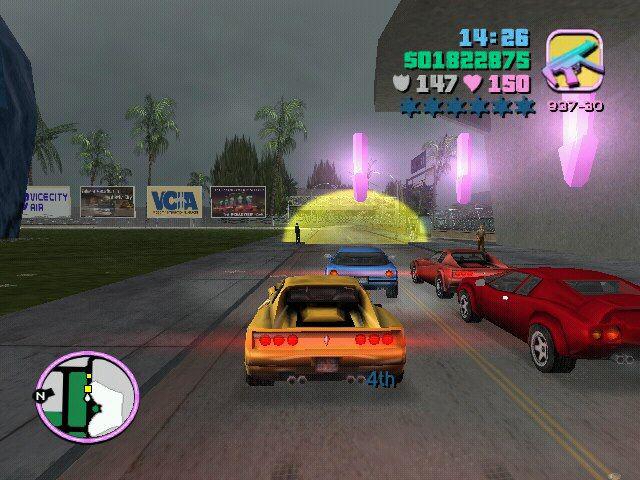 Vice City Street Racer are a Side Mission in GTA Vice City.
Take part in six Street Races.
This is an optional endeavor, but it is required for 100% completion of the game. It's not time-sensitive, meaning it can be played at any point, even after the main storyline is completed.
Vice City Street Racer - Mission Details:
The Vice City Racer mission series consists of 6 street/drag races throughout Vice City. They are available from A+B Auto after purchasing the Sunshine Autos showroom.
To begin a race, the player must descend to the lower part of the building and enter the pink marker to choose from up to six races. Each race has a different participation fee and different rewards.
Vice City Street Racer: Races
| Race | Location | Length | Entry Fee | Reward |
| --- | --- | --- | --- | --- |
| Terminal Velocity | Escobar International Airport | 1.748km / 1.086mi | $100 | $400 |
| Ocean Drive | Ocean Drive | 2.659km / 1.652mi | $500 | $2,000 |
| Border Run | Little Haiti, Little Havana | 3.1km / 1.926mi | $1,000 | $4,000 |
| Capital Cruise | Ocean Beach, Washington Beach, Vice Point | 3.924km / 2.438mi | $2,000 | $8,000 |
| Tour! | Washington Beach, Vice Point | 4.603km / 2.860mi | $5,000 | $20,000 |
| V.C. Endurance | Vice City | 9.721km / 6.040mi | $10,000 | $40,000 |
Vice City Street Racer: Mission Info
Vice City Street Racer: Video Walkthrough
Original Game Walkthrough (PS2, Xbox, PC):
The Definitive Edition Remaster Walkthrough: