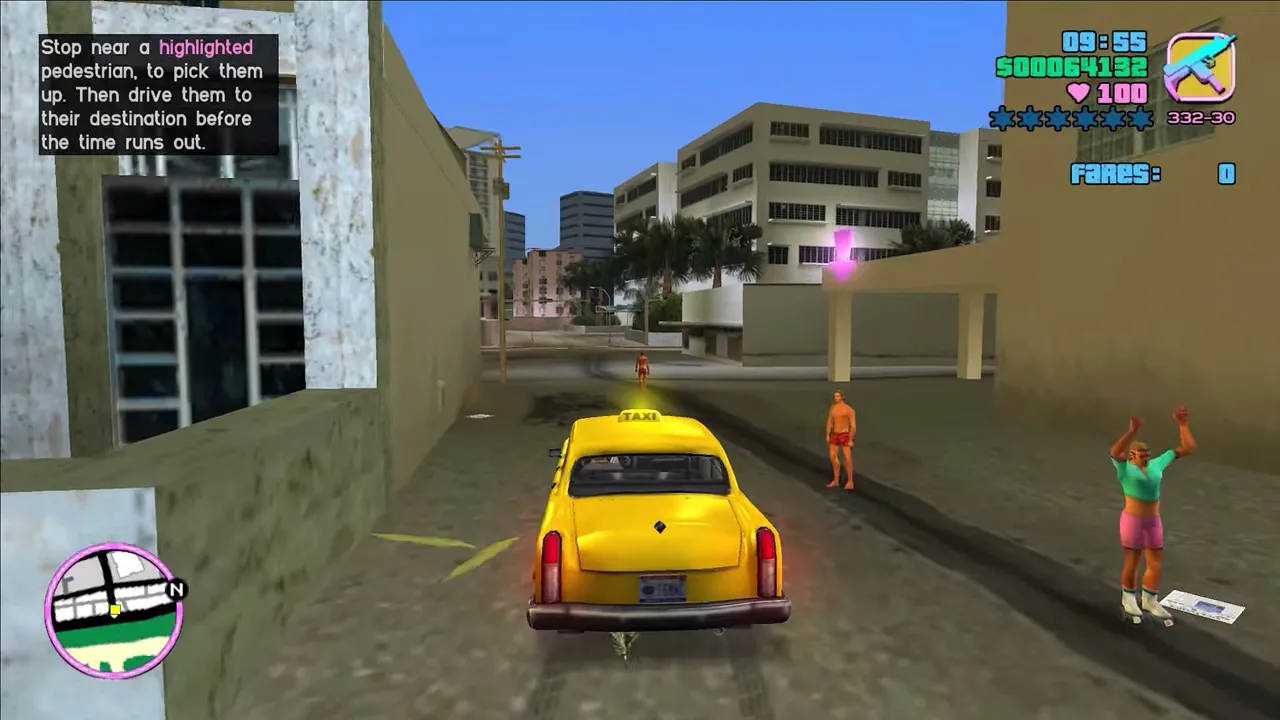 Taxi Driver is a Vehicle Sub-Mission in GTA Vice City.
Use a Taxi to deliver customers to their desired locations.
This is an optional endeavor, but it is required for 100% completion of the game. It's not time-sensitive, meaning it can be played at any point, even after the main storyline is completed.
This side activity is also present in Grand Theft Auto V, GTA San Andreas and Grand Theft Auto III.
Taxi Driver - Mission Details:
The Taxi Driver side-mission can be toggled on or off at any time while driving a Taxi.
The mission requires the player to drive passengers to specific locations within a time limit, for a cash reward. Once a pedestrian enters the vehicle, the destination is displayed on-screen and is marked by a blip on the radar.
If the player runs out of time, exits the Taxi or damages it too badly, the passenger will flee. It's possible to repair a damaged Taxi at Pay 'n' Spray to resume collecting passengers.
Taxi Driver: Reward
Every fare will award the player an amount of cash.
Completing 100 fares will have every Taxi in game gain the boost jump ability.
Taxi Driver: Destinations
This is a list of all possible Taxi Fare destinations in Grand Theft Auto: Vice City, categorised by area.
Vice City Beach
| Destination | Location |
| --- | --- |
| The Pole Position Club | Ocean Beach |
| Malibu Club | Vice Point |
| Ocean Bay Marina | Ocean Beach |
| Ammu-Nation | Ocean Beach |
| Bunch of Tools | Washington Beach |
| North Point Mall | Vice Point |
| The Jewelers | Vice Point |
| Vice City Beach | Ocean Beach |
| Vice City Beach | Washington Beach |
| Vice City Beach | Vice Point |
| Shady Palms Hospital | Vice Point |
| Washington Beach Police Station | Washington Beach |
| Vice Point Police Station | Vice Point |
| The Well Stacked Pizza Co. | Vice Point |
Vice City Mainland
| Destination | Location |
| --- | --- |
| The Pole Position Club | Ocean Beach |
| Escobar International Airport | Escobar International Airport |
| Sunshine Autos | Little Havana |
| Kaufman Cabs | Little Haiti |
| Screw This | Little Havana |
| Howlin' Petes Biker Emporium | Downtown |
| Little Havana Police Station | Little Havana |
| Downtown Police Station | Downtown |
| Schuman Health Care Center | Downtown |
| West Haven Community Healthcare Center | Little Havana |
| Hyman Memorial Stadium | Downtown |
| The Jewelers | Downtown |
| The Well Stacked Pizza Co. | Little Haiti |
| The Well Stacked Pizza Co. | Downtown |
| Viceport | Viceport |
| Ryton Aide | Little Haiti |
Taxi Driver: Mission Info
Rewards

Taxis gain jump boost ability after 100 fares

Featuring

Kaufman CabTaxiZebra Cab
Taxi Driver: Video Walkthrough
Original Game Walkthrough (PS2, Xbox, PC):
The Definitive Edition Remaster Walkthrough: