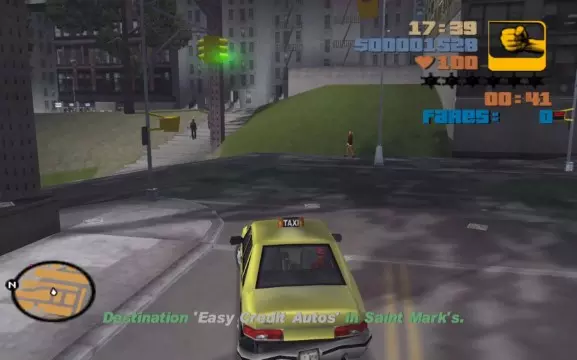 Taxi Driver is a Vehicle Sub-Mission in Grand Theft Auto III.
Complete 100 taxi fares.
This is an optional endeavor, but it is required for 100% completion of the game. It's not time-sensitive, meaning it can be played at any point, even after the main storyline is completed.
This side activity is also present in Grand Theft Auto V, GTA San Andreas and GTA Vice City.
Taxi Driver - Mission Details:
The Taxi Driver side-mission can be toggled on or off at any time while driving a Taxi.
The mission requires the player to drive passengers to specific locations within a time limit, for a cash reward. Once a pedestrian enters the vehicle, the destination is displayed on-screen and is marked by a blip on the radar.
If the player runs out of time, exits the Taxi or damages it too badly, the passenger will flee. It's possible to repair a damaged Taxi at Pay 'n' Spray to resume collecting passengers.
Taxi Driver: Reward
Every fare will award the player an amount of cash.
Completing 100 total fares will unlock the Borgnine cab to spawn at the Borgnine Taxis company in Harwood. Additionally, on PlayStation 4, the "Where To?" Silver Trophy will be awarded for 100 completed fares.
Taxi Driver: Destinations
This is a list of all possible Taxi Fare destinations in Grand Theft Auto III, categorised by island.
Portland Island
| Destination | Location |
| --- | --- |
| Meeouch Sex Kitten Club | Red Light District |
| Supa Save | Portland View |
| Old School Hall | Chinatown |
| Greasy Joe's Cafe | Callahan Point |
| Ammu-Nation | Red Light District |
| Easy Credit Autos | Saint Mark's |
| Woody's Topless Bar | Red Light District |
| Marco's Bistro | Saint Mark's |
| Import/Export Garage | Portland Harbor |
| Punk Noodles | Chinatown |
Staunton Island
| Destination | Location |
| --- | --- |
| Panlantic construction site | Fort Staunton |
| Liberty Memorial Coliseum | Aspatria |
| Liberty City Cathedral | Bedford Point |
| Kenji's Casino | Torrington |
| St. Matthias University | Liberty Campus |
| The Shopping Mall | Belleville Park |
| Staunton Island City Hall | Torrington |
| AMCo. Headquarters | Torrington |
| Bolt Burgers | Bedford Point |
| Belleville Park | Belleville Park |
Shoreside Vale
| Destination | Location |
| --- | --- |
| Francis International Airport | Francis International Airport |
| Cochrane Dam | Cochrane Dam |
| Import/Export Garage | Cochrane Dam |
| Hope Medical College | Pike Creek |
| Staunton View Picnic Area | Wichita Gardens |
| North West Towers | Wichita Gardens |
Taxi Driver: Mission Info
Rewards

Borgnine cab spawns at the Borgnine Taxis in Harwood

Unlocked Items

Borgnine Taxi

Featuring

Taxi
Taxi Driver: Video Walkthrough
Original Game Walkthrough (PS2, Xbox, PC):
The Definitive Edition Remaster Walkthrough: