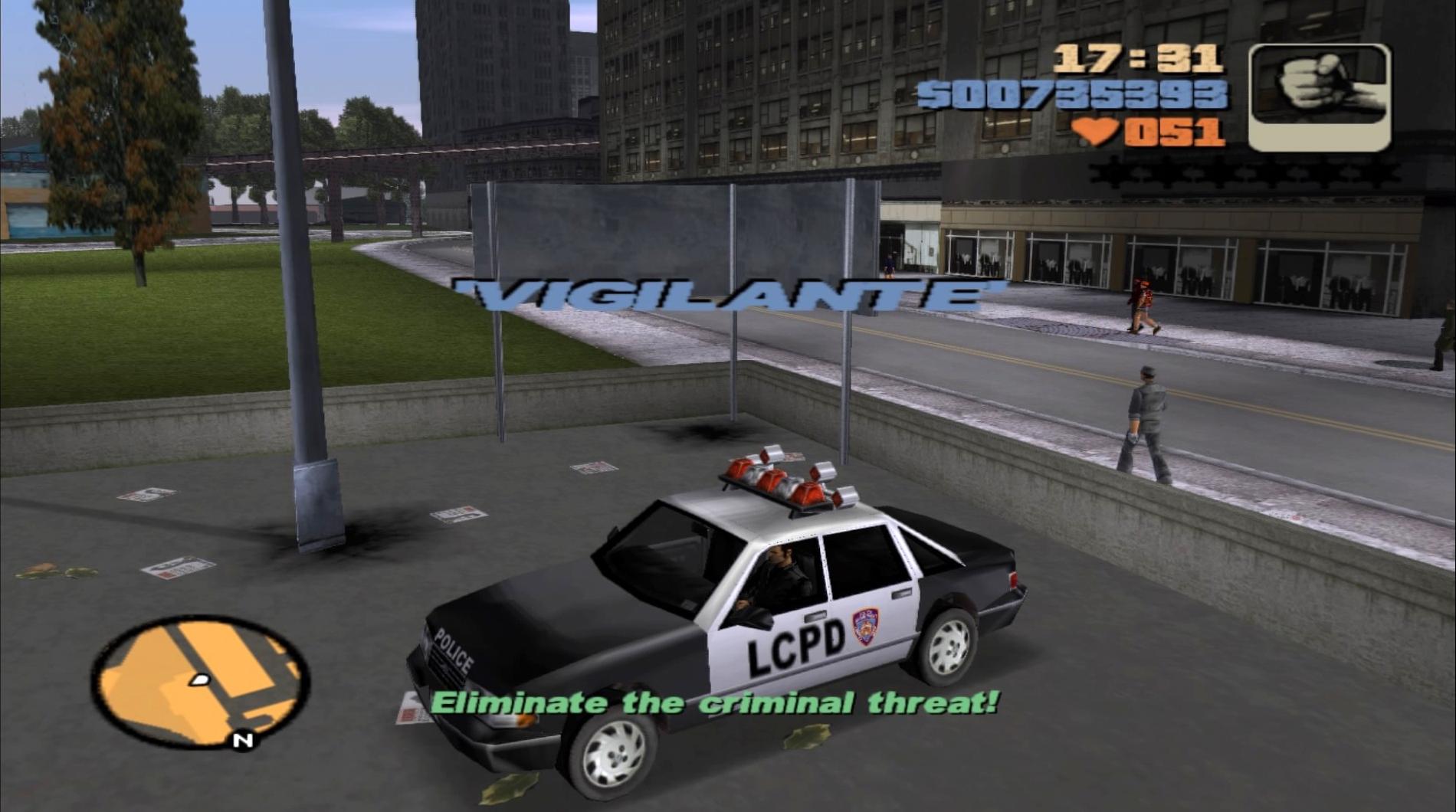 Vigilante is a Vehicle Sub-Mission in Grand Theft Auto III.
Chase down and kill criminals.
This is an optional endeavor, but it is required for 100% completion of the game. It's not time-sensitive, meaning it can be played at any point, even after the main storyline is completed.
This side activity is also present in Grand Theft Auto IV, GTA San Andreas and GTA Vice City.
Vigilante - Mission Details:
The Vigilante side mission can be toggled on or off at any time while driving a Law Enforcement Vehicle.
The player has to chase down and kill criminals that are indicated in-game through the police dispatcher within a time limit. The criminals spawn in vehicles and will flee, but can also attack the player.
If the criminal's vehicle catches fire or is held in place, the occupant will bail out and run or attempt to acquire a new vehicle. As the player completes more levels, the targets will wield stronger weapons.
The mission will fail if the player remains outside of a Law Enforcement vehicle for over 60 seconds, dies, the timer runs out, or the player is arrested. It is important to note that Vigilante does not grant immunity from the police, which will often pursue the player, making the mission a lot harder.
Vigilante: Reward
Completing 10 Total Criminal Kills on an island will award 1 Police Bribe at every Hideout.
Completing 20 Total Criminal Kills on an island will award 1 extra Police Bribe at every Hideout.
Killing 20 Criminals on each island will award a total of 6 Police Bribes at the player's Hideouts.
Vigilante: Mission Info
Rewards

One extra Police Bribe after each 10 kills

Featuring

Police Car
Vigilante: Video Walkthrough
Original Game Walkthrough (PS2, Xbox, PC):
The Definitive Edition Remaster Walkthrough: