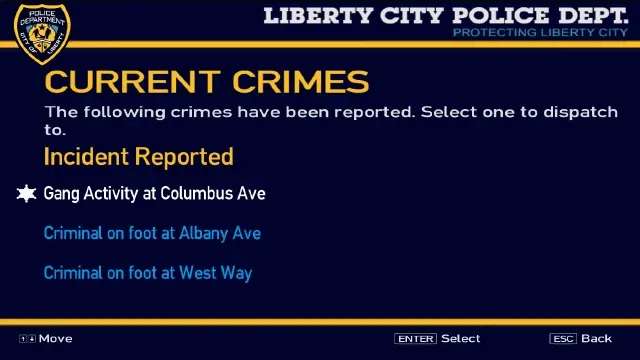 Vigilante is a Side Mission in Grand Theft Auto IV, given by Liberty City Police Department (LCPD).
Intercept crimes that are currently going down around the city.
This is an optional endeavor, but it is required for 100% completion of the game. It's not time-sensitive, meaning it can be played at any point, even after the main storyline is completed.
This side activity is also present in GTA San Andreas, GTA Vice City and Grand Theft Auto III.
Vigilante - Mission Details:
In the Vigilante mission, the player gets to intercept crimes in progress by accessing the Police Computer from a Law Enforcement Vehicle.
Niko can find crimes ranging through three categories, namely:
Gang Activity, which involves killing a group of thugs.
Stolen Vehicle , which involves taking down a criminal in a stolen car.
Suspect on foot , which involves killing a criminal on foot.
20 Missions must be completed for the Cleaned the Mean Streets achievement and for 100% Completion.
As the player completes more and more missions, the enemies improve their weapons. At the first levels, thugs use bare fists or pistols, but at the levels closer to level 20, criminals begin wielding heavy weaponry, like AK47's, Carbine Rifles, Shotguns and even Sniper Rifles. Suspects in vehicles wield SMG's and therefore become very dangerous.
Grand Theft Auto IV also features another special type of Vigilante mission, Most Wanted, where Niko must hunt the top wanted criminals in the game.
Vigilante: Mission Info
Game Edition

Grand Theft Auto IV
Mission Type

Side Mission (optional)

Mission Giver

Liberty City Police Department (LCPD)

Location

Various locations in Liberty City

Required for 100%

Yes
Rewards

"Cleaned the mean streets" Achievement

Notes

20 Missions must be completed to achieve 100% completion..
Vigilante: Video Walkthrough