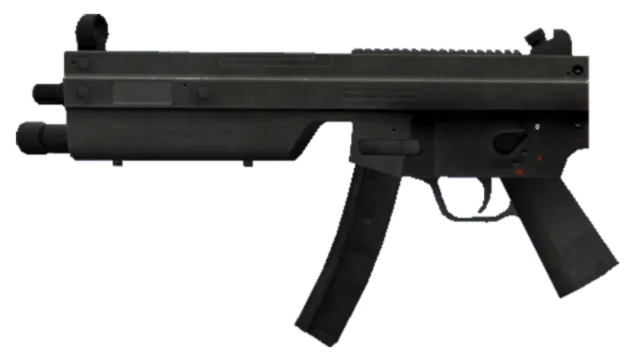 The SMG is a weapon in the Submachine Guns class featured in Grand Theft Auto IV & Episodes.
The design of the SMG in GTA IV is based on a real life SW MP-10.
This weapon also appears in Grand Theft Auto V, GTA San Andreas and GTA Vice City.
How to get the SMG in GTA IV:
In GTA IV, the SMG can be purchased from Underground Gun Shops for a price of $2,500.
It can also be obtained from friend Little Jacob (GTA IV), Terry Thorpe (TLAD), Armando Torres (TBoGT), for a price of $1,750.
It becomes available after completing the mission Luck of the Irish in Story Mode.
The SMG can also be found and picked up around the map (see the spawn locations in the "Appearances" section below).
SMG Description:
The Special Weapons MP-10 (also known as the PXP-10) is essentially an MP5 clone with a custom polymer upper. Not much is really known about it, as it's apparently made in very small numbers by an equally small and mysterious company.
SMG: GTA IV Statistics
Damage

20.00

Fire Rate

650

rpm

Accuracy

Good

Range

60

meters

Reload

1.7

seconds
SMG: GTA IV Info
Weapon Class

Submachine Guns

Acquisition

Underground Gun Shops

Little Jacob (GTA IV)

Terry Thorpe (TLAD)

Armando Torres (TBoGT)

Available After Mission (Story Mode)

Story Mode Price

$2,500

Friend Price

$1,750

Weapon Tier

Tier 2

Based on (Real Life)

SW MP-10
SMG: GTA IV Appearances
Game Edition

Grand Theft Auto IV & Episodes
SMG Spawn Locations in Grand Theft Auto IV

Where to find the SMG in

Grand Theft Auto IV & Episodes

:

Schottler
Francis International Airport
South Bohan
Chase Point
East Holland
North Holland
Chinatown
Leftwood
Alderney City
Port Tudor Normandy
Acter Industrial Park

Used By:

NOOSE
FIB
Gun Shop friends

Notable Owners:

Ancelotti Crime FamilyFederal Investigation Bureau (FIB)Johnny BarbosaJohnny KlebitzKorean MobLiberty City Police Department (LCPD)Liberty City TriadsLittle JacobMcReary Crime FamilyNiko BellicPegorino Crime FamilyPetrovic MafiyaTimur

Similar Weapons