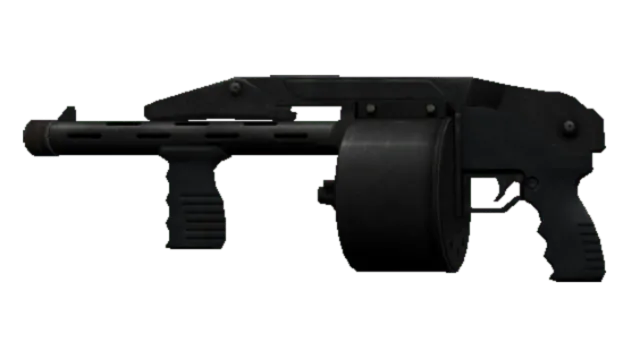 The Assault Shotgun is a weapon in the Shotguns class featured in GTA IV: The Lost and Damned.
The design of the Assault Shotgun in GTA IV is based on a real life Striker.
This weapon also appears in Grand Theft Auto V.
How to get the Assault Shotgun in GTA IV:
The Assault Shotgun can be obtained from friend Terry Thorpe (TLAD), for a price of $3,500.
It becomes available after completing the mission Gang Wars and Heavy Toll in Story Mode.
The Assault Shotgun also Spawns at the player's safehouse after completing 40 Gang Wars and after the Heavy Toll mission.
Assault Shotgun Description:
This fully automatic shotgun is extremely powerful and fires off shells constantly. This weapon is very effective at taking out multiple targets at once and can take down vehicles quickly.
Assault Shotgun: GTA IV Statistics
Damage

25.00

Fire Rate

500

rpm

Accuracy

Poor

Range

35

meters

Reload

2.9

seconds
Assault Shotgun: GTA IV Info
Weapon Class

Shotguns

Acquisition

Bonus Reward

Terry Thorpe (TLAD)

Available After Mission (Story Mode)

How To Unlock

Spawns at the player's safehouse after completing 40 Gang Wars and after the Heavy Toll mission

Friend Price

$3,500

Based on (Real Life)

Striker
Assault Shotgun: GTA IV Appearances
Game Edition

GTA IV: The Lost and Damned