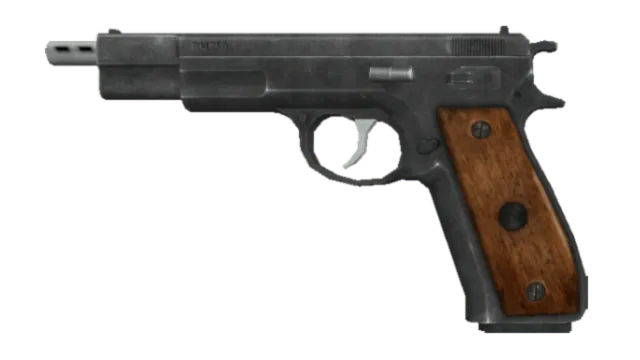 The Automatic 9mm is a weapon in the Handguns class featured in GTA IV: The Lost and Damned.
The design of the Automatic 9mm in GTA IV is based on a real life CZ 75B.
How to get the Automatic 9mm in GTA IV:
The Automatic 9mm can be obtained from friend Terry Thorpe (TLAD), for a price of $500.
It becomes available after completing the mission Gang Wars and Bad Cop Drop in Story Mode.
The Automatic 9mm also Spawns at the player's safehouse after completing 20 Gang Wars.
Automatic 9mm Description:
This pistol requires only one pull of the trigger to empty the magazine and is very accurate. This is a great weapon for drive-bys and close combat with its high rate of fire.
Automatic 9mm: GTA IV Statistics
Damage

20.00

Fire Rate

600

rpm

Accuracy

Decent

Range

65

meters

Reload

2

seconds
Automatic 9mm: GTA IV Info
Weapon Class

Handguns

Acquisition

Bonus Reward

Terry Thorpe (TLAD)

Available After Mission (Story Mode)

How To Unlock

Spawns at the player's safehouse after completing 20 Gang Wars

Friend Price

$500

Based on (Real Life)

CZ 75B
Automatic 9mm: GTA IV Appearances
Game Edition

GTA IV: The Lost and Damned
Appearances in Story Missions: