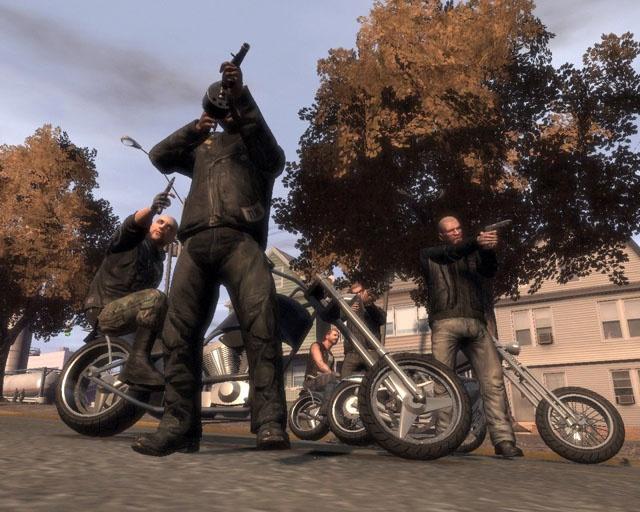 Gang Wars are a Side Mission in GTA IV: The Lost and Damned. It becomes available after completing Coming Down.
Participate in Gang Warfare
This is an optional endeavor, but it is required for 100% completion of the game. It's not time-sensitive, meaning it can be played at any point, even after the main storyline is completed.
Gang Wars - Mission Details:
Gang Wars are missions in GTA: The Lost and Damned, involving The Lost MC motorcycle club and its rivals.
Gang Wars are unlocked after the mission Coming Down. To start a war, the player must ride a bike to a designated meeting point, then drive to the enemy's location, being accompanied by Clay, Terry, Jim and three other non-storyline characters that will assist the player during battle.
By completing an increasing number of Gang Wars, the number of enemies you have to fight increases, their resistance but also their weapons get stronger.
Gang Wars: Rewards
Completing gang wars earns money and increases the toughness of surviving Lost MC members.
Additionally, completing specific numbers of Gang Wars will reward Johnny with weapons that spawn at his safehouses:
Completing 25 Gang Wars is necessary for 100% Completion.
Gang Wars: War Types
There are three main Gang War variations to play in TLaD, namely:
Static Wars
In this type of warfare, a gang is situated in one singular, static location of the map and there are approximately 20-30 enemies to gun down. These enemies may also call for reinforcements.
Cruising Wars
The gang that the player fights in this type of warfare is on the move, riding their own bikes. There are many enemies to take down and they may also call for reinforcements.
Transportation Wars
In this type of warfare, The Lost MC must destroy a target enemy vehicle without letting it escape. Enemies will try to protect the vehicle at all costs and may also call for reinforcements.
Gang Wars: Enemies
There are several Gangs that can appear in Gang Wars in The Lost and Damned, namely:
Vehicles: Angel, Daemon, Gang Burrito, Slamvan, Wayfarer
Possible Targets: Gang Burrito, Slamvan
---
Vehicles: Huntley Sport, Voodoo, Comet
Possible Targets: Comet
---
Vehicles: Sentinel, PMP 600, Phantom
Possible Targets: Phantom
---
Vehicles: Schafter, Rebla, Stretch
Possible Targets: Stretch
---
Vehicles: Futo, Hakumai, Packer, Mule
Possible Targets: Packer, Mule
Gang Wars: Mission Info
Game Edition

GTA IV: The Lost and Damned
Mission Type

Side Mission (optional)

Location

Various locations in Liberty City

Available After Mission (Story Mode)

Required for 100%

Yes
Rewards

Various amounts of money; Weapons unlocked at the safehouse after certain numbers of gang wars completed.

Unlocked Items

Assault Shotgun Automatic 9mm Carbine Rifle Grenade Launcher Sawed-Off Shotgun

Featuring

Jim FitzgeraldClay SimonsTerry ThorpeYardiesPetrovic MafiyaThe Commission (Cosa Nostra)Albanian MobAngels of Death MCFaustin-Rascalov Mafiya

Notes

Completing 25 Gang Wars will be enough for 100% completion
Gang Wars: Video Walkthrough