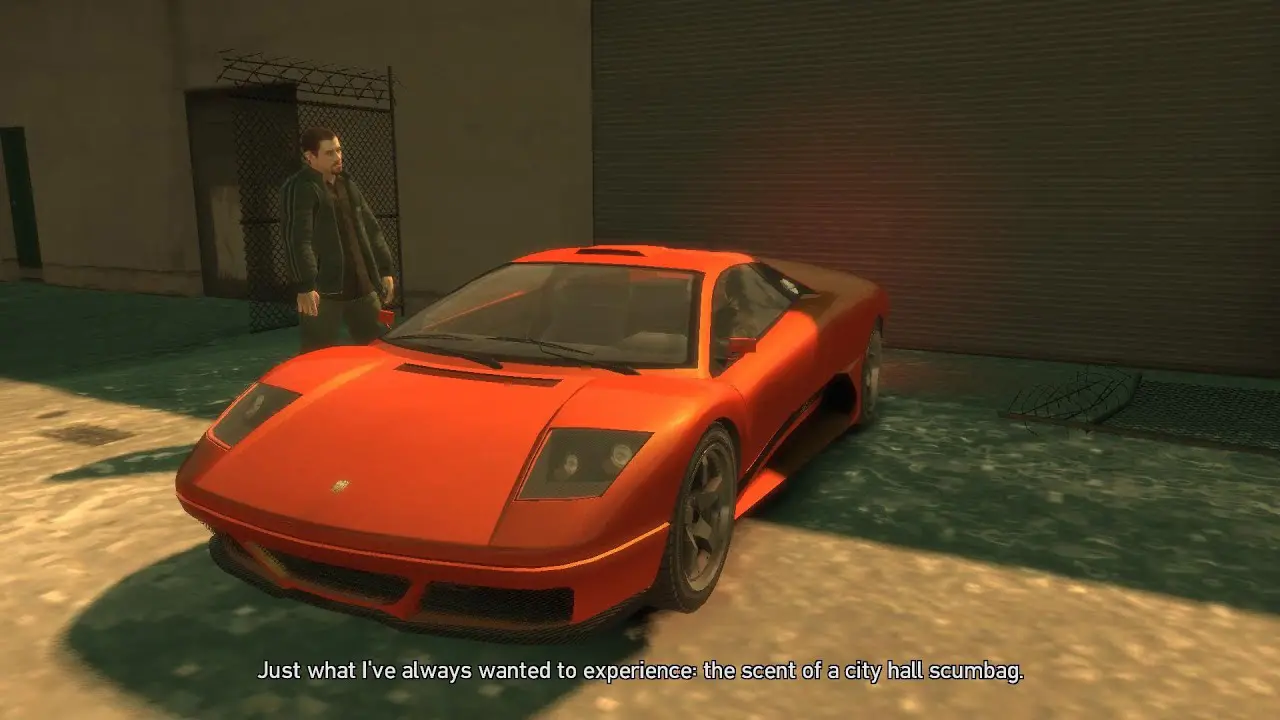 Stubbs' Dirty Laundry are a Side Mission in GTA IV: The Lost and Damned, given by Thomas Stubbs.
Complete several missions for Thomas Stubbs.
This is an optional endeavor, but it is required for 100% completion of the game. It's not time-sensitive, meaning it can be played at any point, even after the main storyline is completed.
Stubbs' Dirty Laundry - Mission Details:
Stubbs' Dirty Laundry is a group of side-missions given to Johnny Klebitz by congressman Thomas Stubbs via cell phone.
These missions occur in random order and reward the player $1000 each. Additionally, completing all 5 missions is required for 100% Completion of the game.
Stubbs' Dirty Laundry: Missions
1. First Impressions
The player is tasked with going to the Superstar Cafe to kill one of Stubbs' fellow congressmen. The player has to take out the target's guards and prevent the target from escaping.
---
2. Knowing Me, Knowing You
Johnny needs to go to Bryce Dawkins' mansion in Westdyke and steal his Infernus. Johnny then takes the car to a mechanic in Acter Industrial Park to bug the car, allowing Stubbs to expose Dawkins' homosexual relationship with Bernie Crane.
---
3. When the Blue Chips are Down
Johnny is tasked with helping one of Stubbs' friends, who has been arrested for tax evasion, escape the FIB and the LCPD task force. The player then has to take her to the helipad above the Booth Tunnel and allow her to escape.
---
4. Phone Ho
Stubbs asks Johnny to go to Traeger Road in Port Tudor and take a photo of a fellow Congressman, who will arrive in a red Cognoscenti with a hooker. After a short while, the car drives off and the mission is complete.
---
5. Communication Breakdown
Stubbs informs Johnny that someone has sensitive information and means to go to the press to expose it. The player has a short amount of time to reach the target's spawn location, which is random, and has to take him out to prevent the information from being divulged.
Stubbs' Dirty Laundry: Mission Info
Game Edition

GTA IV: The Lost and Damned
Mission Type

Side Mission (optional)

Mission Giver

Thomas Stubbs

Location

Various locations in Liberty City

Required for 100%

Yes
Rewards

$1000 per mission

Notes

Completing every mission is required for 100% completion.
Stubbs' Dirty Laundry: Video Walkthrough