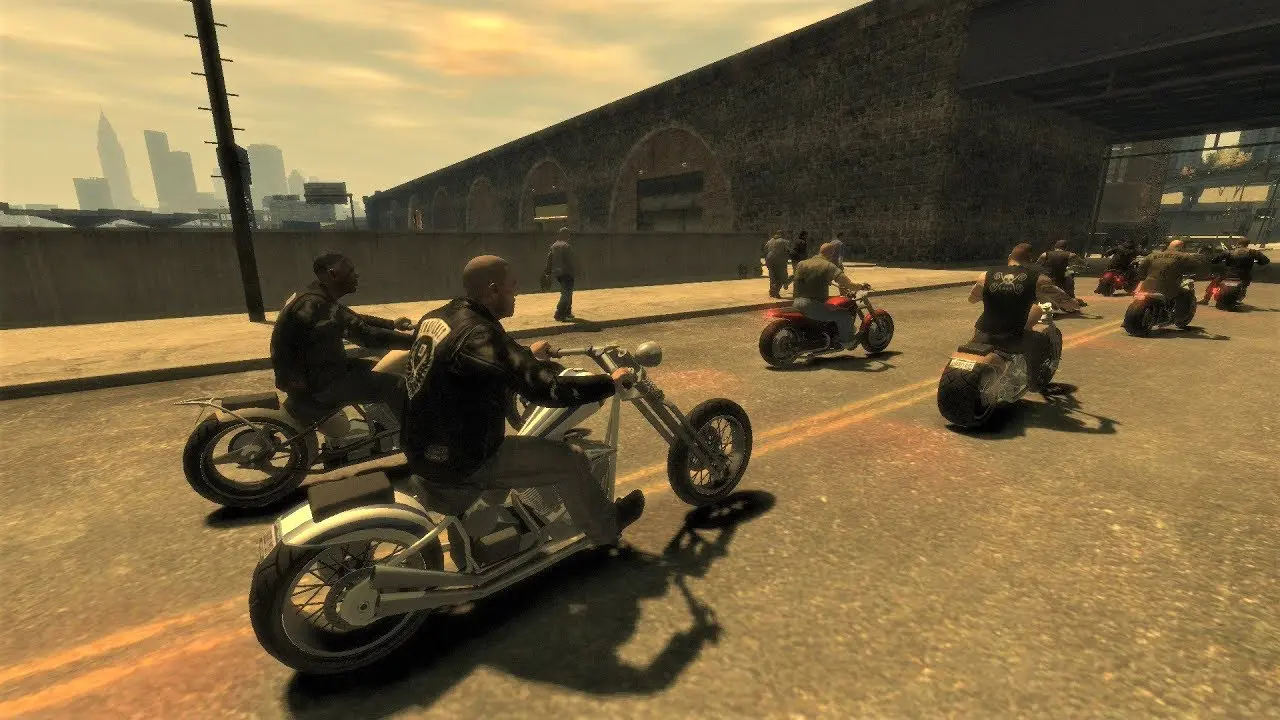 Bike Races are an Activity in GTA IV: The Lost and Damned, given by Terry Thorpe. It becomes available after completing Liberty City Choppers.
Compete in various motorbike races in Liberty City
This is an optional endeavor, but it is required for 100% completion of the game. It's not time-sensitive, meaning it can be played at any point, even after the main storyline is completed.
This side activity is also present in Grand Theft Auto V, GTA San Andreas, GTA Vice City, GTA Vice City Stories and GTA Liberty City Stories.
Bike Races -
Activity

Details:

There are Bike Races present in GTA: The Lost and Damned, and they can also be played in Multiplayer.

These races occur throughout Liberty City, and are unlocked after the mission Liberty City Choppers. The starting line for every race is indicated by a red and white motorcycle helmet icon on the map.

There are 12 races to complete in The Lost and Damned for 100% Completion. Unlike the GTA IV Races, races in TLaD are limited to motorcycles instead of cars. Traffic is completely disabled during these races, and the player can perform Bat Attacks on their enemies.
Bike Races: Bat Attack
Whilst racing, the player has a bat that can be used to knock other drivers off of their bikes. Pressing

/

/LMB will make Johnny hit to the left and pressing

/

/RMB will make him hit to the right. The longer the player holds the button, the more powerful the hit is. Beware, the other racers can hit back, being able to take the player off course.
Bike Races: Races and Rewards
There are 12 bike races to complete in GTA IV: The Lost and Damned:
Alderney Casino Race
Alderney Beach Race
North West Alderney Race
Alderney City Race
Tudor Docks Race
Alderney Industrial Race
Holland Race
Park Circuit Race
Bohan Beach Race
Bohan Steps Race
Bohan Strip Race
Schottler Station Race
Winning your first race will reward $500, with every additional race won increasing the pot by $250, up to a maximum of $3250 per race. Coming first in all twelve races results in a Hakuchou that respawns at your safehouse.
Additionally, knocking 69 racers off of their bikes awards the player the Get Good Wood achievement. Remember that completing all races is required for 100% Completion.
Bike Races: Mission Info
Game Edition

GTA IV: The Lost and Damned
Mission Type

Activity

Mission Giver

Terry Thorpe

Location

Various locations in Liberty City

Available After Mission (Story Mode)

Required for 100%

Yes
Rewards

Various amounts of money; "Get Good Wood" Achievement for knocking down 69 racers off of their bikes.

Unlocked Items

Hakuchou

Featuring

Clay SimonsTerry Thorpe

Notes

There are 12 races to complete..
Bike Races: Video Walkthrough