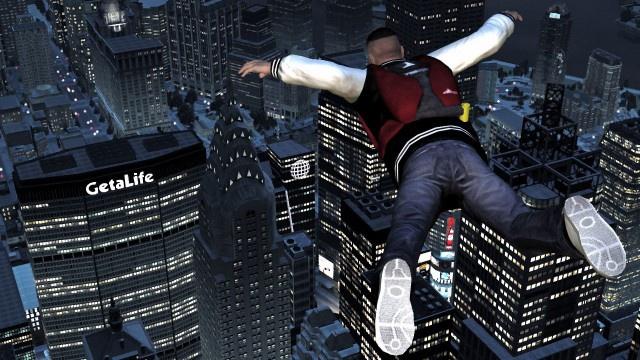 Base Jumps are an Activity in GTA IV: The Ballad of Gay Tony. It becomes available after completing High Dive.
Use a parachute to jump off 15 designated locations across the Liberty City
This is an optional endeavor, but it is required for 100% completion of the game. It's not time-sensitive, meaning it can be played at any point, even after the main storyline is completed.
This side activity is also present in Grand Theft Auto V.
Base Jumps -
Activity

Details:

In Base Jumping, the player has to parachute to a specific location from a high point. There are 15 Base Jumps to complete, marked on the map with pink Parachute icons. These Base Jumps are split into 3 categories. Completion of Base Jumps does not award money but is required for 100% Completion of the game.
Base Jumps: Categories
Target Jumps
The most common type of jump, which involves jumping off of a tall building in Algonquin and going through checkpoints. The landing point is stationary, usually on the street.
Vehicle Jumps
Similar to Target Jumps, except that the landing point is a moving target, such as a Flatbed truck or a boat.
Helicopter Jumps
Similar to the previous categories, but the starting point is an airborne helicopter instead of a building.
Base Jumps: Mission Info
Game Edition

GTA IV: The Ballad of Gay Tony
Base Jumps: Video Walkthrough