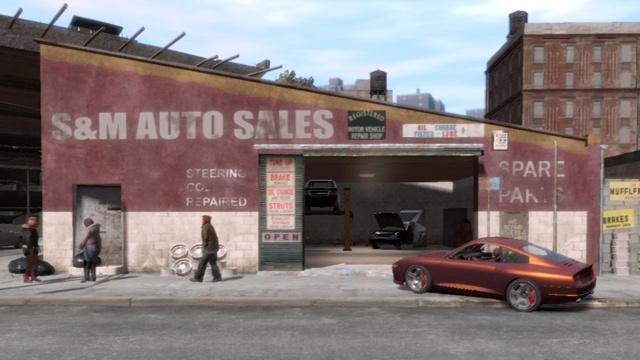 Stevie's Car Thefts are a Side Mission in Grand Theft Auto IV. It becomes available after completing No. 1, A Long Way to Fall and Smackdown.
Find and deliver 30 vehicles to Brucie's friend, Stevie
This is an optional endeavor, but it is required for 100% completion of the game. It's not time-sensitive, meaning it can be played at any point, even after the main storyline is completed.
This side activity is also present in GTA San Andreas, GTA Vice City, Grand Theft Auto III, GTA Vice City Stories and GTA Liberty City Stories.
Stevie's Car Thefts - Mission Details:
Stevie's Car Thefts are available after unlocking the Alderney Safehouse and completing Smackdown and No. 1, and consist of delivering a list of thirty different vehicles to Brucie Kibbutz' associate, Stevie.
Stevie will begin sending texts to Niko containing hints and an image of the vehicle's location. If the player finds and gets in the right vehicle, the game prompts a message saying You've found the vehicle Stevie is looking for. The vehicle must then be delivered to S&M Auto Sales, Stevie's garage in Chase Point, Bohan.
Stevie's Car Thefts: Rewards
Every vehicle has a maximum reward that the player can earn. Damaging the vehicle severely, such as breaking headlights or causing deformations will significantly reduce the amount Stevie pays.
Successfully delivering all 30 vehicles will allow the player to deliver any vehicle they want to Stevie's garage for an amount of cash. The specific cash value for every vehicle can be found on the page of each vehicle in our GTA 4 Vehicles Database. Additionally, the player unlocks the You Got the Message achievement.
Stevie's Car Thefts: Vehicles
Stevie's Car Thefts: Mission Info
Game Edition

Grand Theft Auto IV
Mission Type

Side Mission (optional)

Location

S&M Auto Sales, Chase Point, Bohan

Available After Mission (Story Mode)

Required for 100%

Yes
Rewards

Various amounts of money; "You got the message" Achievement; Ability to sell cars to Brucie's lockup
Stevie's Car Thefts: Video Walkthrough