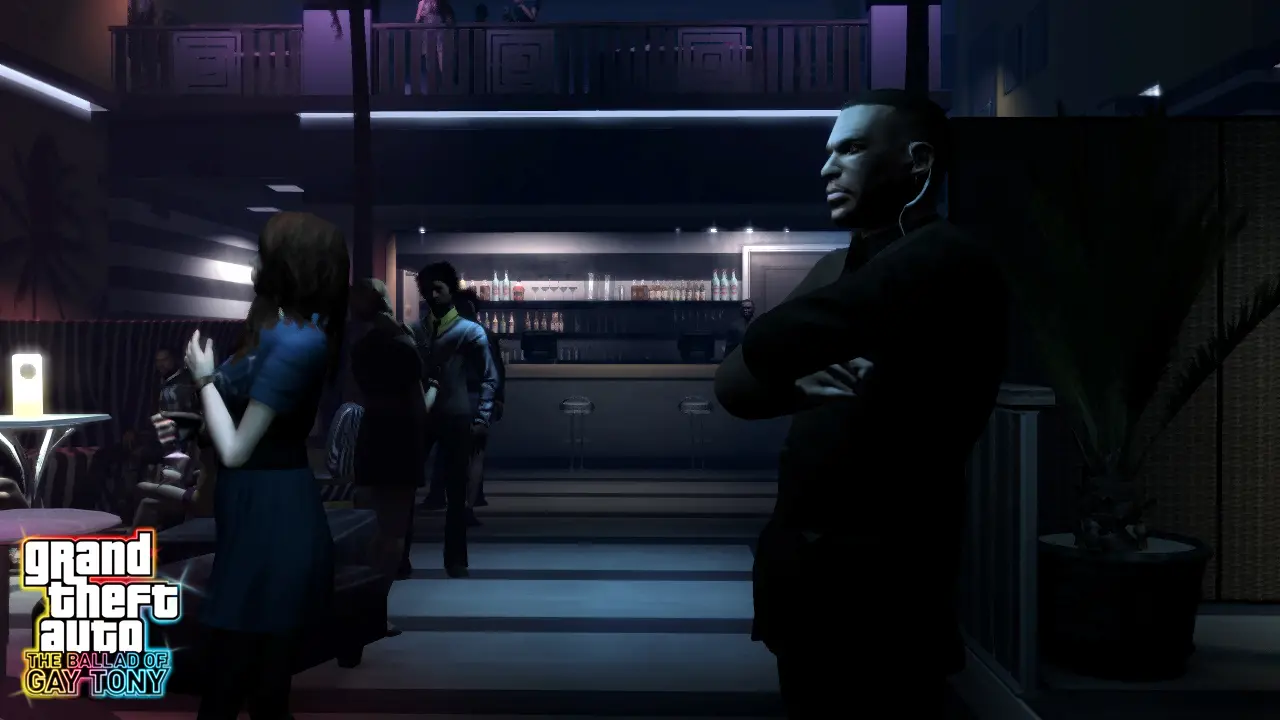 Club Management is a Side Mission in GTA IV: The Ballad of Gay Tony, given by Gay Tony Prince. It becomes available after completing Chinese Takeout and Practice Swing.
Deal with troublemakers around the nightclub.
This is an optional endeavor, but it is required for 100% completion of the game. It's not time-sensitive, meaning it can be played at any point, even after the main storyline is completed.
Club Management - Mission Details:
During Club Management, Luis supervises the main areas of the club and deals with troublemakers when trouble arises. During this mission, Luis cannot take shots or participate in champagne drinking games and has to deal with troublemakers, drunks and dealers until the club closes, from 9:00 PM to 6:00 AM.
At the end of every club management session, Dessie contacts Luis and asks him to run an errand for the VIPs in the club. There are 8 missions to complete, after which Tony will call Luis to thank him and tell him he'll have someone else complete VIP work instead.
Club Management: VIP Work
1. For Clay "Pain Giver" Jackson
Luis needs to go to Hercules and help Jackson, who is in his PMP 600, evade the paparazzi, before dropping him off at The Majestic. Killing photographers will fail the mission.
---
2. For Kerry McIntosh
McIntosh is demanding take-out from the Iron Belly Deli in Bohan, so Luis has to deliver it for her in a short time.
---
3. For British Prince
Luis drives the prince, who has picked up two hookers, to a hotel in Star Junction.
---
4. For Poppy Mitchell
Luis uses a fire truck to scare the photographers who are trying to take pictures of Poppy away. Afterward, Luis drops Mitchell off on Luddite East.
---
5. For Cloe Parker
Luis finds Parker drunk in the women's bathroom and drives her home in Westdyke using her pink Peyote.
---
6. For Al Di Napoli
Luis assists Al Di Napoli in a drug deal at the Vespucci University and then escapes a 2-star wanted level for him.
---
7. For Blue Brothers
Luis picks up the Blue Brothers from the MeTV building, being careful to evade hordes of fans without injuring any of them.
---
8. For Bruce Spade
Luis picks up Spade from Northwood using a Swift helicopter. Spade is afraid of heights and will frequently ask Luis to fly low.
---
Club Management: Mission Info
Game Edition

GTA IV: The Ballad of Gay Tony
Mission Type

Side Mission (optional)

Mission Giver

Gay Tony Prince

Location

Maisonette 9, Algonquin

State / Area

Algonquin

Available After Mission (Story Mode)

Required for 100%

Yes
Featuring

Schafter
Club Management: Video Walkthrough