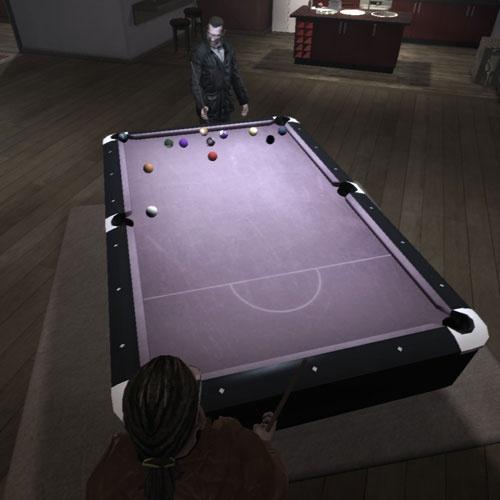 Pool is an Activity in Grand Theft Auto IV & Episodes.
This is an optional endeavor, but it is required for 100% completion of the game. It's not time-sensitive, meaning it can be played at any point, even after the main storyline is completed.
This side activity is also present in GTA San Andreas.
Pool -
Activity

Details:

In Grand Theft Auto: IV, Pool can be played while on friend activities or against random competitors when alone. Unlike in other GTA installments, money can not be wagered in Pool games - the reward for winning a game of pool is the "Pool Shark" achievement, and, in The Lost and Damned, the pool cue is also obtainable as a melee weapon.

Pool can be played in Little Jacob's Homebrew Café and in Playboy X's penthouse. Additionally, in The Lost and Damned DLC, pool can also be played at the Lost MC Clubhouse.
Pool: Rules
The player is the one who starts the game. Whoever pockets (sends a ball into one of the 6 holes in the table) the first ball gets that pattern, and the other player gets the opposite.
If the player manages to pocket their type of ball on their turn, they get another turn. If they pocket the white cue ball, the other player gets to put the cue ball anywhere on the table before shooting their turn.
A player wins the game by pocketing all of their respective ball types and then pocketing the black 8-Ball. If either player pockets the black 8-Ball before pocketing all of their other balls, they automatically lose the game.
The green pool table of the Homebrew Cafe and the Lost MC Clubhouse has a ragged surface which makes the balls occasionally roll on random paths. In contrast, the pink pool table of Playboy's penthouse has better surface quality, but shooting too hard may cause balls to bounce off of the table, losing the respective player's turn.
Pool: Activity Info
Game Edition

Grand Theft Auto IV & Episodes
Mission Type

Activity

Location

Homebrew Cafe; Playboy X's Penthouse Lost MC Clubhoues (TLaD)

State / Area

Alderney

Algonquin

Broker / Dukes

Required for 100%

Yes
Rewards

"Pool Shark" Achievement

Featuring

Pool Cue
Pool: Video Walkthrough