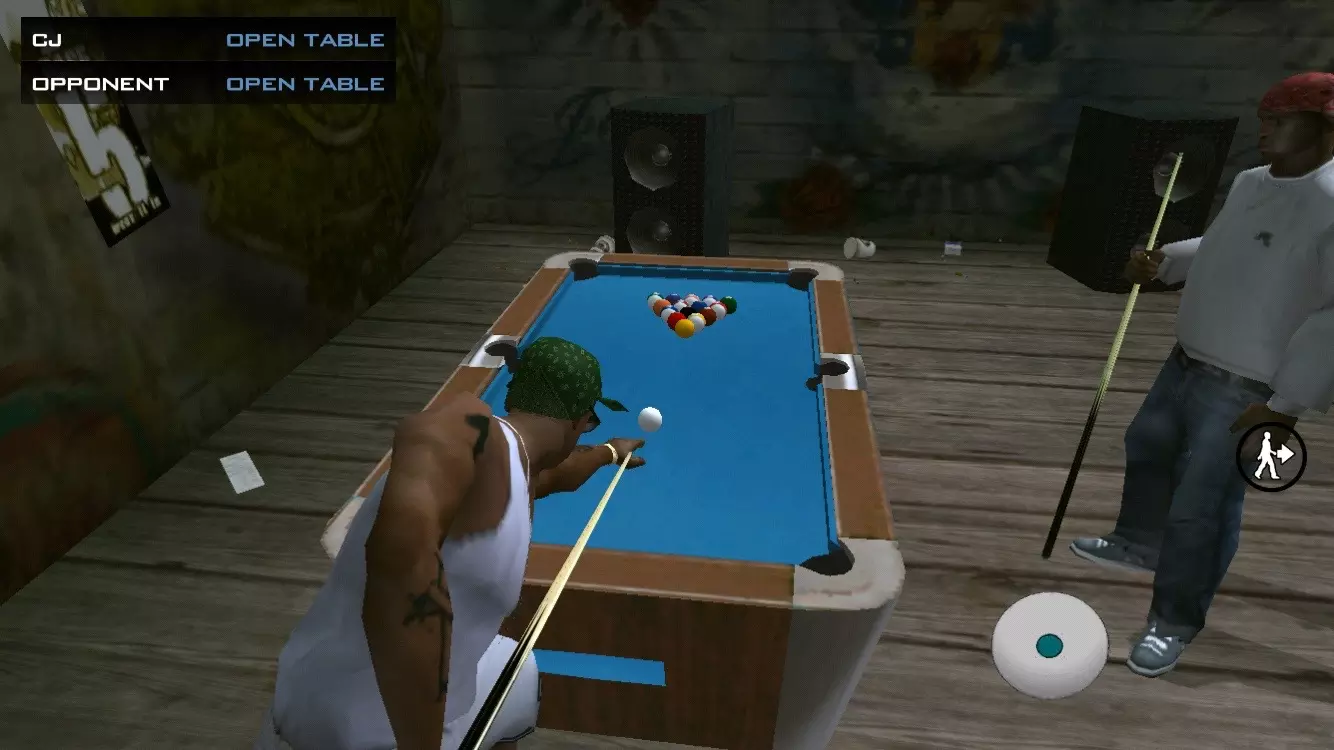 Pool is an Activity in GTA San Andreas.
This is an optional endeavor, not required for 100% completion of the game.
This side activity is also present in Grand Theft Auto IV.
Pool - Activity Details:
Pool is an activity available in Grand Theft Auto: San Andreas. In the game, while in one of the bars where Pool is available to play, CJ can challenge any person who is holding a pool cue to a game. A maximum wager of 1000$ can be placed, after which the game of pool begins.
CJ can win or lose the amount of cash he's wagered, and after every game, his melee weapon is replaced with a Pool Cue.
Additionally, when playing in the multiplayer mode of the game, co-op Pool can be played using a secondary controller, but in this mode no bets can be made and no money can be earned.
Pool: Locations
Pool can be played in multiple locations throughout San Andreas, specifically at the:
Lil' Probe'Inn in Bone County
Misty's in Garcia, San Fierro
Casino Floor in Las Venturas
Ten Green Bottles on Grove Street in Ganton, Los Santos
The Craw Bar in Old Venturas Strip, Las Venturas
Pool: Rules
The player is the one who starts the game. Whoever pockets (sends a ball into one of the 6 holes in the table) the first ball gets that pattern, and the other player gets the opposite.
If the player manages to pocket their type of ball on their turn, they get another turn. If they pocket the white cue ball, the other player gets to put the cue ball anywhere on the table before shooting their turn.
A player wins the game by pocketing all of their respective ball types and then pocketing the black 8-Ball. If either player pockets the black 8-Ball before pocketing all of their other balls, they automatically lose the game.
Pool: Activity Info
Mission Type

Activity

Location

Several Locations

State / Area

San Andreas

Required for 100%

No
Featuring

Pool Cue

Notes

CJ can kill his opponent to take back his wager in case he loses the game.
Pool: Video Walkthrough