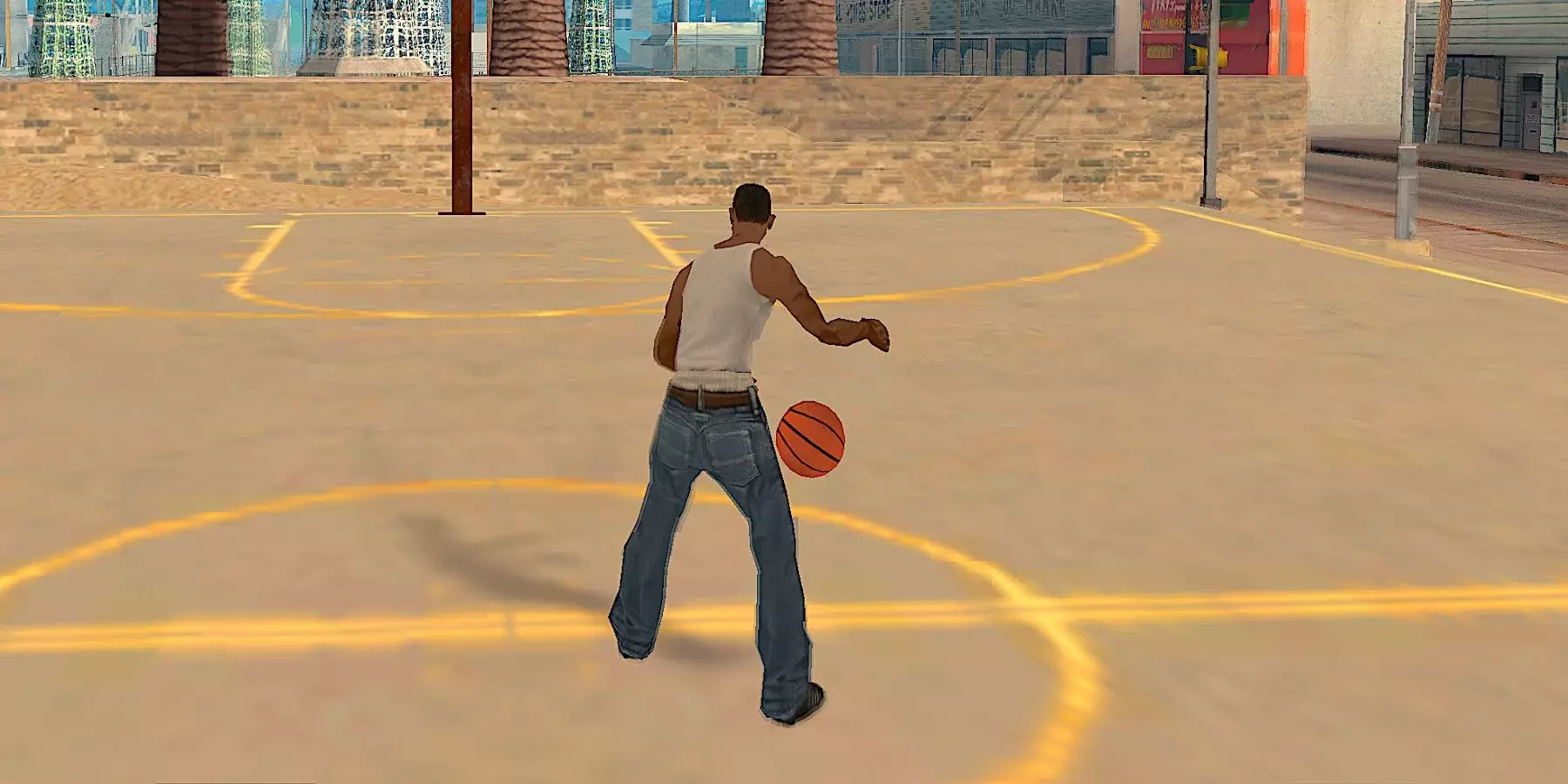 Basketball are an Activity in GTA San Andreas. It becomes available after completing Tagging Up Turf.
This is an optional endeavor, not required for 100% completion of the game.
Basketball -
Activity

Details:

After the mission "Tagging Up Turf", CJ can play basketball by himself at the several basketball courts in San Andreas, being able to score points by shooting the ball inside basketball hoops. The player can also do tricks with the ball, like spinning it on CJ's fingers. The farther the ball is thrown from, the more points the player receives.

Additionally, the player may activate a mini-challenge which requires them to score as many points as possible within a time limit. Scoring at least 30 points during this challenge is required for the "Hoopin' it Up" Achievement.

While basketball courts can be seen in most GTA games, only GTA San Andreas allows the player to actually play basketball.
Basketball: Locations
In Grand Theft Auto: San Andreas, several basketball courts can be seen across the map, the player being able to begin Basketball challenges while inside them.
At Sweet's house in Ganton, Los Santos
Behind the barber shop in Playa Del Seville
In East Los Santos
In Madd Dogg's private gym inside Madd Dogg's Crib, Mulholland, Los Santos (once accessible)
In front of several houses in Las Venturas
East of The Camel's Toe, Las Venturas
Basketball: Activity Info
Mission Type

Activity

Location

Several basketball courts throughout San Andreas

State / Area

San Andreas

Available After Mission (Story Mode)

Required for 100%

No
Rewards

"Hoopin' it Up" Achievement

Notes

In the PS2 version of the game, Basketball is available from the beginning
Basketball: Video Walkthrough