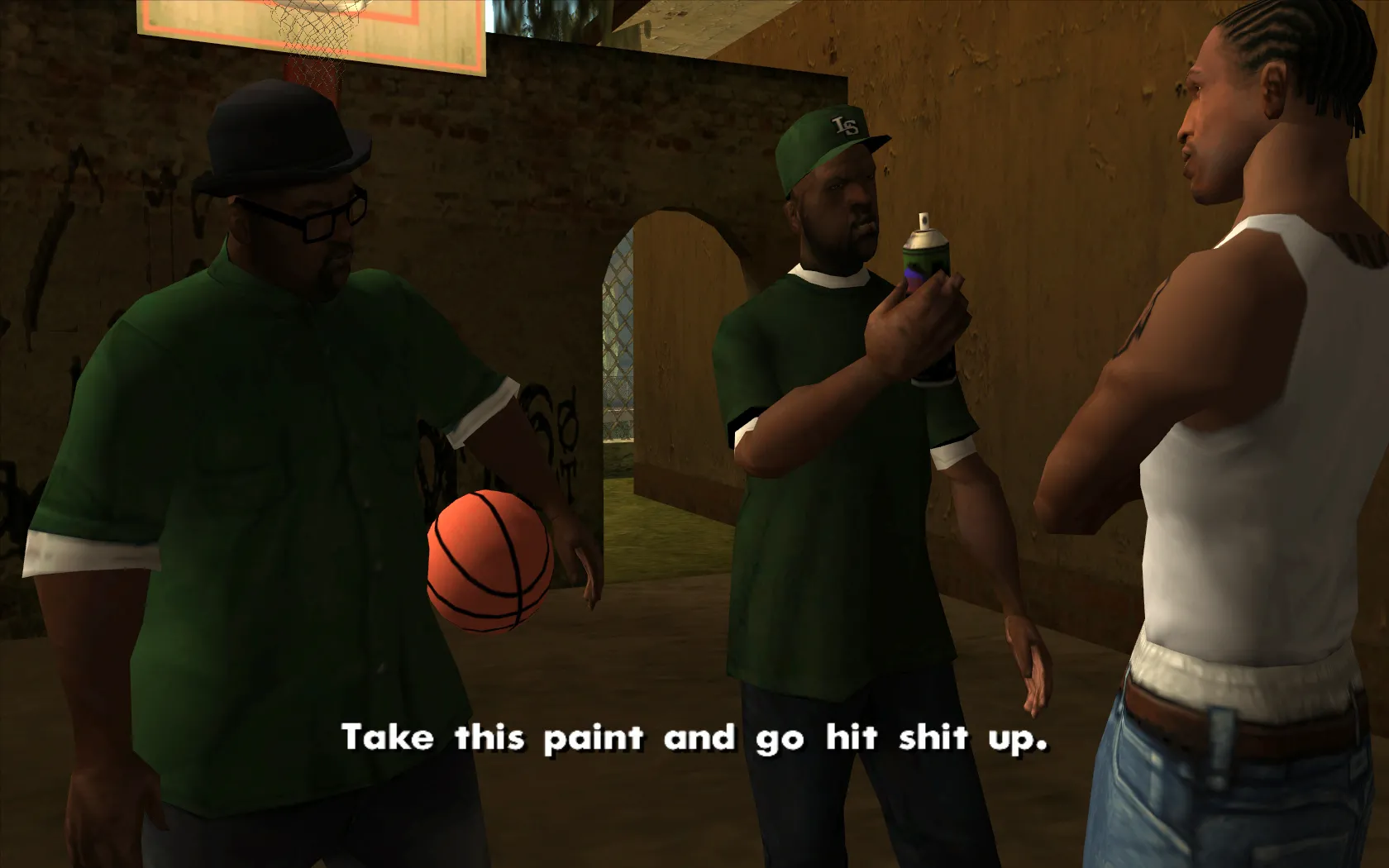 Tagging Up Turf is a main story mission in GTA San Andreas, given by Sweet Johnson.
It's the 4° GTA San Andreas mission in chronological order, and it takes place in Los Santos.
Sweet tasks Carl with getting rid of all enemy gang tags in the area.
CJ heads to Sweet's house, where he's playing basketball with Big Smoke. Sweet give CJ the task of 'tagging up turf' in the surrounding areas. They first head to Idlewood, where CJ covers up various Ballas tags with the Grove Street Families tag.
After CJ sprays over two more tags, the pair head to East Los Santos where they cover up more Ballas tags but on their own turf. One of the tags is near a pair of Ballas. They act hostile to CJ, but he can still cover the tag.
Once all of the tags have been covered up, CJ and Sweet head back to Grove Street.
Tagging Up Turf: Mission Objectives
Get in Sweet's car.
Drive with Sweet to Idlewood.
Spray over the remaining tags in this area.
Get back in Sweet's car!
Drive to East Los Santos.
Find and spray over the tags.
Go to the blip to find the next target.
Get back in Sweet's car!
Go back to Sweet's house.
Tagging Up Turf: Mission Info
Mission Number

4

Mission Type

Mandatory Mission

Mission Giver

Sweet Johnson

Location

Sweet's House, Ganton

State / Area

Los Santos
Rewards

$200; Spray Can now spawns inside the Johnson House; Respect +

Unlocked Items

Spray CanBasketball
Tagging Up Turf: Video Walkthrough
Original Game Walkthrough (PS2, Xbox, PC):
The Definitive Edition Remaster Walkthrough: