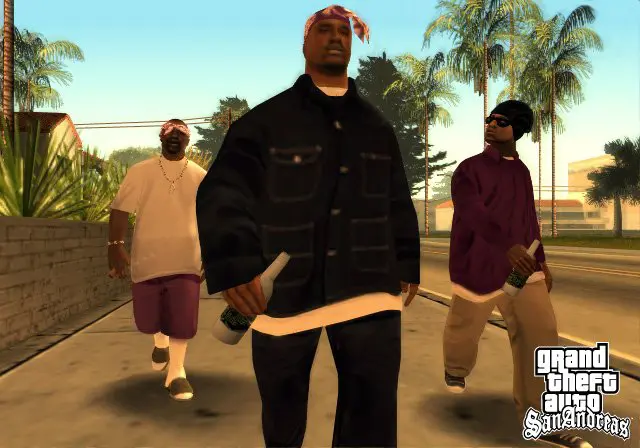 The Ballas are a Gang featured in Grand Theft Auto: San Andreas.
The gang is one of the main group of antagonists in the game, serving as the primary threat and the main enemies of the game.
The gang has been around Los Santos since the 1970s, and is split into four sets - the Front Yard Ballas, the Rollin' Heights Ballas, the Kilo Tray Ballas and the Temple Drive Ballas. The Ballas have had a long-running, intense rivalry with the Grove Street Families, a rivalry that is in full swing during the events of the game.
The Ballas control poor neighborhoods to the east of the city, and are involved in several illegal activities, like gang warfare, street violence, murder, drug trafficking and others. They are easily identifiable by their purple clothing.
On the street, gang members are seen carrying Micro SMGs or Pistols. They are found smoking marijuana and drinking liquor. The gang's members will attack CJ on sight, especially if he is wearing green.
This Gang also appears in Grand Theft Auto V.
The Ballas: GTA SA Info
Group Type

Gang

Faction Type

African-American Street Gang

Nationality

United States

Location

East Los Santos; Idlewood; Jefferson; Willowfield; Glen Park; Verona Beach

Occupation

Drug trafficking; Drug manufacturing; Arms-trafficking; Security; Prostitution

Gang Colors

Purple

Front Companies

Big Smoke's Crack Palace; Crack Den; Idlewood Projects; B Dup's Crack Palace; Little Weasel's House

Members

Little WeaselKane

Affiliation

Alan CrawfordB DupBig SmokeC.R.A.S.H.Loco SyndicateLos Santos VagosRussian MafiaRyderSan Fierro Rifa
The Ballas: Appearances