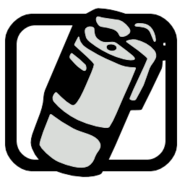 The Tear Gas is a weapon in the Thrown Weapons class featured in Grand Theft Auto: San Andreas.
This weapon also appears in Grand Theft Auto 6, Grand Theft Auto V and GTA Vice City.
Tear Gas Description:
Tear Gas is generally used to stop enemies on their tracks, as they begin coughing when contacting the gas. Prolonged exposure to the aerosols leads to death, so this weapon is very versatile.
How to get the Tear Gas in GTA San Andreas:
The Tear Gas can be found and picked up around the San Andreas map (see the spawn locations in the "Appearances" section below).
Tear Gas: GTA SA Statistics
Skill Levels

No

Can Crouch

No

Can Jump

Yes

Can Sprint

Yes
Tear Gas: GTA SA Info
Weapon Class

Thrown Weapons

Fire Type

Projectile

Weapon Slot

9
Tear Gas: GTA SA Appearances
Tear Gas Spawn Locations in GTA San Andreas

Where to find the Tear Gas in GTA San Andreas:

Found in Mulholland Intersection, Los Santos, on the steps of the building west of the car park and north of the ZIP store in Downtown Los Santos.
Found in Ocean Docks, Los Santos, beside some crates and boxes in a warehouse being passed by a railway.
Found in Easter Basin, San Fierro, inside the carrier at Easter Basin Naval Station.
Found at K.A.C.C. Military Fuels in Las Venturas, on the tarmac.
Found at Las Venturas Airport, next to the Shamal closest to the yellow and white "ramps".

Notable Owners:

RyderThe Ballas

Appearances in Story Missions: