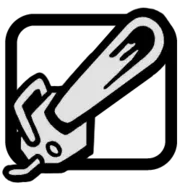 The Chainsaw is a weapon in the Melee Weapons class featured in Grand Theft Auto: San Andreas.
This weapon also appears in GTA Vice City.
Chainsaw Description:
Although being the heaviest melee weapon, the Chainsaw makes up for it by being incredibly badass. A mass-murdering weapon, you'll be sure to inflict terror on the pedestrians on the street.
How to get the Chainsaw in GTA San Andreas:
The Chainsaw can be found and picked up around the San Andreas map (see the spawn locations in the "Appearances" section below).
Chainsaw: GTA SA Statistics
Damage

100.00

Fire Rate

100.00

Range

1.60
Skill Levels

No

Can Crouch

No

Can Strafe

Yes

Can Jump

No

Can Sprint

No
Chainsaw: GTA SA Info
Weapon Class

Melee Weapons

Fire Type

Melee

Weapon Slot

2

Weapon Tier

Tier 3 (Nutter Cheat Set)
Notes

By pressing B (Xbox), or Square (PS2) while aiming at someone, CJ will raise the chainsaw in the air..
Chainsaw: GTA SA Appearances
Chainsaw Spawn Locations in GTA San Andreas

Where to find the Chainsaw in GTA San Andreas:

Found in Ocean Docks, Los Santos, beside a staircase near the southernmost bridge.
Found in Willowfield, Los Santos , beside a little cabin near a pile of coal.
Found in The Panopticon, Red County, in front of a cabin near many tree log stacks.
Found in Hampton Barns, Red County, in a farm between Blueberry and Montgomery.
Found in Flint Range, Flint County, at Helena Wankstein's storage shack (only available after meeting her).
Found in Avispa Country Club, San Fierro, inside the tennis courts.
Found in Doherty, San Fierro, in the construction site next to CJ's garage, on top of a collapsed building.
Found in Garcia, San Fierro, inside the Final Build Construction site.
Found in Hunter Quarry, Bone County, opposite to the treadmill exit of the big, red and southern mineral crusher at the bottom of the quarry.
Found in Whitewood Estates, Las Venturas, in front of the compound entrance featured in the mission "You've Had Your Chips".

Appearances in Story Missions: