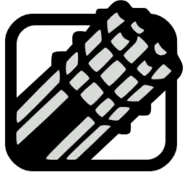 The Minigun is a weapon in the Heavy Weapons class featured in Grand Theft Auto: San Andreas.
This weapon also appears in Grand Theft Auto V and GTA Vice City.
Minigun Description:
A player's best friend, the Minigun is sure to bring terror to the streets of San Andreas. Although extremely heavy, CJ is strong enough to hold the Minigun and shoot it. Capable of destroying vehicles in mere seconds, its power should not be underestimated.
How to get the Minigun in GTA San Andreas:
It becomes available after completing the mission Vertical Bird in Story Mode.
The Minigun can be found and picked up around the San Andreas map (see the spawn locations in the "Appearances" section below).
The Minigun also Spawns at Mike Toreno's Ranch after the mission "Vertical Bird".
Minigun: GTA SA Statistics
Damage

140.00

Fire Rate

100.00

Accuracy

100.00

Range

75.00
Skill Levels

No

Can Crouch

No

Can Strafe

Yes

Can Jump

No

Can Sprint

No

Ammo Capacity

500
Minigun: GTA SA Info
Weapon Class

Heavy Weapons

Fire Type

Instant Hit

Available After Mission (Story Mode)

How To Unlock

Spawns at Mike Toreno's Ranch after the mission "Vertical Bird"

Weapon Slot

8
Minigun: GTA SA Appearances
Minigun Spawn Locations in GTA San Andreas

Where to find the Minigun in GTA San Andreas:

Found on the Kincaid Bridge, San Fierro, on top of the southern arch of the bridge.
Found in Roca Escalante, Las Venturas, on the bottom-most level of an underground parking lot, in front of an elevator.
Found in Rockshore East, Las Venturas, on top of some scaffolding in the building site.
Found in Tierra Robada, Las Venturas, inside Mike Toreno's ranch (after completing "Vertical Bird").
Found in Area 69, Bone County, inside the base, in a control room, in the second room after entering the underground.

Notable Owners:

Zero San Fierro Triads

Appearances in Story Missions: