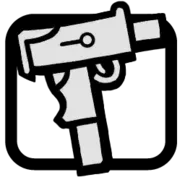 The Micro SMG is a weapon in the Submachine Guns class featured in Grand Theft Auto: San Andreas. The design of the Micro SMG in GTA San Andreas is based on a real life Uzi Pistol (Micro Uzi).
This weapon also appears in Grand Theft Auto 6, Grand Theft Auto V, Grand Theft Auto IV, GTA Vice City and Grand Theft Auto III.
Micro SMG Description:
This Micro Uzi packs a punch. An insane rate of fire assures that you'll plow through everyone coming up your way. Make sure to have a lot of ammunition stored so you don't run out.
This weapon has three Skill Levels you can progress through: Poor, Gangster and Hitman. Reaching the Hitman level allows you to fire while moving and improves lock-on range, accuracy, rate of fire, and strafe speed when using the weapon.
How to get the Micro SMG in GTA San Andreas:
The Micro SMG can be purchased from Ammu-Nation for a price of $500 (or 20% higher in Las Venturas).
It becomes available after completing the mission Doberman in Story Mode.
The Micro SMG can be found and picked up around the San Andreas map (see the spawn locations in the "Appearances" section below).
The Micro SMG also Spawns at Doherty Garage after completing 50 Snapshots.
Micro SMG: GTA SA Statistics
Damage

20.00

Fire Rate

65.00

Accuracy

15.00

Range

30.00
Skill Levels

Yes

Can Crouch

Yes

Can Strafe

Hitman LVL

Can Jump

Yes

Can Sprint

Yes

Ammo Capacity

50

Extended Ammo

100
Micro SMG: GTA SA Info
Weapon Class

Submachine Guns

Fire Type

Instant Hit

Available After Mission (Story Mode)

How To Unlock

Spawns at Doherty Garage after completing 50 Snapshots

Story Mode Price

$500

Weapon Slot

5

Weapon Tier

Tier 1 (Thug Cheat Set)

Based on (Real Life)

Uzi Pistol (Micro Uzi)
Micro SMG: GTA SA Appearances
Micro SMG Spawn Locations in GTA San Andreas

Where to find the Micro SMG in GTA San Andreas:

Found in Ganton, Los Santos, underneath the bridge that connects Ganton and East Los Santos.
Found in East Beach, Los Santos, on top of a building along the crooked uphill road that leads to East Los Santos and Los Flores.
Found in Angel Pine, Whetstone, behind the easternmost trailer in the trailer park.
Found in Doherty, San Fierro, beside the Doherty Garage (after taking all 50 Photographs).
Found in Esplanade North, San Fierro, on Pier 69, behind the Well Stacked Pizza building.
Found in the Verdant Meadows, Bone County, inside a destroyed plane.
Found in Redsands West, Las Venturas, behind a dumpster in the alley behind the Redsands West Safehouse.
Available for purchase from Ammu-Nation for $500 after completing "Doberman".
Seen in use by the Ballas, the Varrios Los Aztecas, and Da Nang Boys gang members.
Seen used by enemy gangs during Gang Warfares.
Seen in use by SWAT teams.

Notable Owners:

Big SmokeCatalinaCIADa Nang BoysDenise RobinsonFBIGrove Street FamiliesJizzy B.Loco SyndicateLos Santos VagosMike TorenoRussian MafiaRyderSalvatore LeoneSan Andreas Police DepartmentSan Fierro RifaSan Fierro TriadsSweet JohnsonT-Bone MendezThe BallasVarrios Los AztecasWu Zi Mu

Appearances in Story Missions:

Similar Weapons