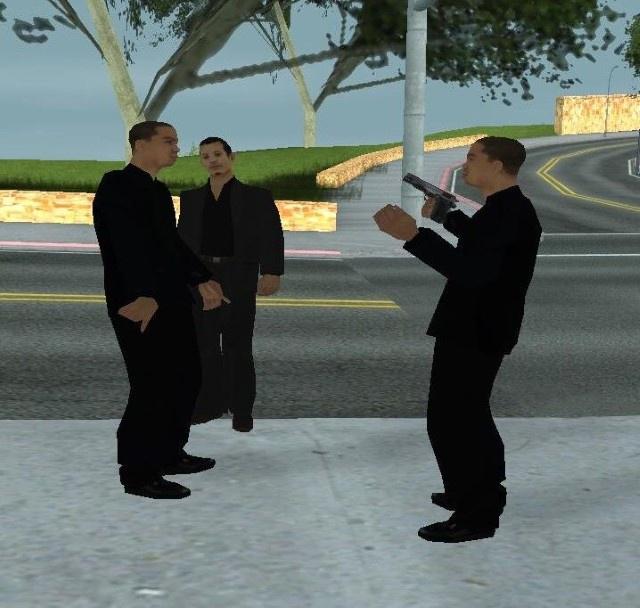 The San Fierro Triads are a Gang featured in Grand Theft Auto: San Andreas.
The gang is formed of members originating from Hong Kong, who have now moved to San Fierro.
There are three Triad factions in San Fierro - The Blood Feather Triads, The Red Gecko Tong, led by Ran Fa Li and the Mountain Clould Boys, operated by the blind Wu Zi Mu.
The Triads are heavily involved in joint operations, being allied with the Grove Street Families. They have problems with the three Mafia families (Leone, Forelli and Sindacco) in Las Venturas, and are enemies with the Da Nang Boys.
On the street, triad members can be seen wearing all-black or all-gray suits, usually around Chinatown. Gang members wield AK-47's and pistols, and drive Elegys, Stratums and Sultans.
This Gang also appears in Grand Theft Auto V, Grand Theft Auto IV and Grand Theft Auto III.
San Fierro Triads: GTA SA Info
Group Type

Gang

Faction Type

Chinese Crime Syndicate

Nationality

China

Location

Chinatown; Calton Heights; King's

Occupation

Smuggling; Gambling; Robbery; Street racing; Gun-running

Also Known As

Triads

Gang Colors

Red; Black; Pink

Front Companies

The Four Dragons Casino; Wu Zi Mu's Betting Shop; Wu Zi Mu's Apartment

Members

Wu Zi Mu Guppy Ran Fa Li Su Xi Mu Little Lion

Affiliation

Carl Johnson Cesar VialpandoGrove Street Families Seville Boulevard Families Temple Drive Families Varrios Los Aztecas
San Fierro Triads: Appearances