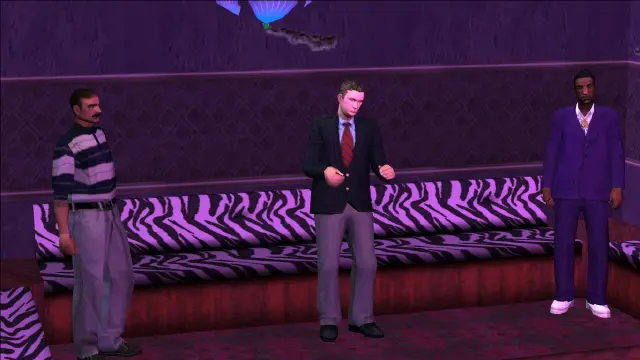 The Loco Syndicate is a Gang featured in Grand Theft Auto: San Andreas.
The Syndicate is better classified as a joint business between several criminals, a collective outfit dealing with drugs, primarily crack cocaine.
The operation is made up of Jizzy B, San Fierro's most powerful pimp, gang leader T-Bone Mendez and businessman Mike Toreno. The Loco Syndicate was the largest organization in San Fierro before Carl Johnson killed Jizzy and Mendez, while also taking out Ryder for conspiring against the GSF.
Mike Toreno was then revealed to be an undercover government agent, who, after the group's disbandment, returned to his usual activities.
Loco Syndicate: GTA SA Info
Group Type

Gang

Faction Type

Criminal Business Venture

Location

San Fierro, San Andreas

Occupation

Drug Trafficking

Front Companies

Loco Syndicate Crack Factory

Members

Mike TorenoJizzy B.T-Bone Mendez

Affiliation

Big SmokeRyderSan Fierro RifaThe Ballas

Weapons

Micro SMGPistol (9mm)
Loco Syndicate: Appearances
Appearances in Story Missions: