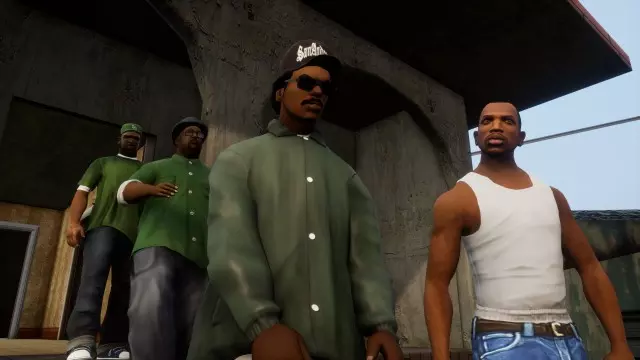 The Grove Street Families are a Gang featured in Grand Theft Auto: San Andreas.
The gang is the protagonistic group in the game, Carl Johnson being one of its leaders. The Grove Street Families is an African-American street gang, one of the oldest in Los Santos.
The Groves are sworn enemies of the Ballas, while also maintaining rivalries with the Los Santos Vagos and the Varrios Los Aztecas.
Their territory can be found in the run-down neighborhoods in the far east of the city, but they also have other territory places, such as the area of Temple and Santa Maria Beach. These locations are easily identifiable by their green gang color.
The GSF are depicted as more honorable than their rival gangs, being against hard drugs sale on their turf. They are very stubborn and refuse to adapt to the changes in Los Santos' criminal world, but are known for violent acts and crimes such as gunrunning, arms trafficking, gang warfare, murder, robbery, theft and others.
The gang's main color is green and its members can be seen wearing it on the street. They carry Pistols and Tec-9s, and upgrade to Deagles, MP5s and Knives after spraying all tags in Los Santos.
This Gang also appears in Grand Theft Auto V.
Grove Street Families: GTA SA Info
Grove Street Families: Appearances