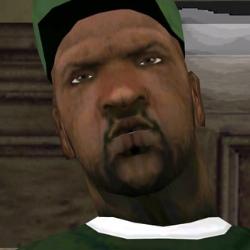 Sweet Johnson appears as a Major Character in GTA San Andreas.
Sweet is the older brother of Carl and the leader of the Grove Street Families.
Sweet was originally supposed to die in a drive-by shooting arranged by the Ballas, which missed and killed their mother Beverly instead, prompting Carl's return home. In Carl's absence, Sweet's hold over the gang has started to decline due to rival gangs manufacturing and selling drugs.
He first doesn't trust Carl on his return but grows to believe they want the same thing, to help the Grove Street Families.
Sweet Johnson: Character Info
Role

Major Character

Gender

Male

Nationality

United States

Location

Grove Street, Ganton, Los Santos

Occupation

Leader of Grove Street Families

Also Known As

Sweet; Sean Johnson

Performer / Actor

Faizon Love

Family

Vehicles

Greenwood

Weapons

AK-47 Desert Eagle Micro SMG Pistol (9mm) SMG Spray Can Tec-9
Sweet Johnson: Appearances
Sweet Johnson Screenshots
Sweet Johnson: Artworks