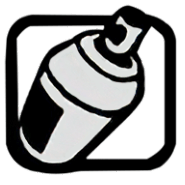 The Spray Can is a weapon in the Equipment class featured in Grand Theft Auto: San Andreas.
Spray Can Description:
Used primarily for painting Gang Tags, but can also be used as a defense weapon, like a weaker Tear Gas. Will intoxicate enemies directly ahead of you, and will also paint them nicely!
How to get the Spray Can in GTA San Andreas:
It becomes available after completing the mission Tagging Up Turf in Story Mode.
The Spray Can can be found and picked up around the San Andreas map (see the spawn locations in the "Appearances" section below).
The Spray Can also Spawns at Johnson House after the mission "Tagging Up Turf".
Spray Can: GTA SA Statistics
Spray Can: GTA SA Info
Weapon Class

Equipment

Fire Type

Area of Effect

Available After Mission (Story Mode)

How To Unlock

Spawns at Johnson House after the mission "Tagging Up Turf"

Weapon Slot

10

Weapon Tier

Tier 1 (Thug Cheat Set)
Spray Can: GTA SA Appearances
Spray Can Spawn Locations in GTA San Andreas

Where to find the Spray Can in GTA San Andreas:

Found in Ganton, Los Santos, in the upstairs bedroom of the Johnson House, after completing "Tagging Up Turf".
Found in Ganton, Los Santos, on the Pawn Shop roof, behind the Johnson house.
Found in Las Colinas, Los Santos, behind a house in the center of the district.
Found at the Sobell Rail Yards, Las Venturas, between two storage buildings.

Notable Owners:

Sweet Johnson

Similar Weapons