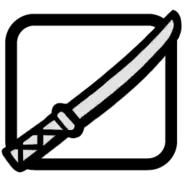 The Katana is a weapon in the Melee Weapons class featured in Grand Theft Auto: San Andreas.
This weapon also appears in GTA Vice City.
Katana Description:
A quick and nimble sword, pressing the attack button rapidly will unleash a variety of combos. Cut up your enemies, random pedestrians, or even your friends... it doesn't really matter.
How to get the Katana in GTA San Andreas:
The Katana can be found and picked up around the San Andreas map (see the spawn locations in the "Appearances" section below).
Katana: GTA SA Statistics
Damage

20.00

Fire Rate

40.00

Range

1.60
Skill Levels

No

Can Crouch

Yes

Can Jump

Yes

Can Sprint

Yes
Katana: GTA SA Info
Weapon Class

Melee Weapons

Fire Type

Melee

Weapon Slot

2
Katana: GTA SA Appearances
Katana Spawn Locations in GTA San Andreas

Where to find the Katana in GTA San Andreas:

Found in El Corona, Los Santos, behind the wooden fence east of the El Corona 24/7 and 8-Ball Autos.
Found in Chinatown, San Fierro, in a dead-end alley directly south of the Chinatown Safehouse.
Found in Hashbury, San Fierro, in the underground pedestrian tunnel behind the Hippy Shopper.
Found in El Quebrados, Tierra Robada, behind a small building in the trailer park in the north part of El Quebrados.
Found at Pirates In Men's Pants, Las Venturas, at the south part of the pirate ship which is at the south part of the lagoon for the Pirates In Men's Pants Safehouse.
Found in Pilgrim, Las Venturas, behind the stone lions just north of the Pilgrim Cluckin' Bell.
Found at The Four Dragons Casino, Las Venturas, at the southeast corner
Can be obtained in the mission "The Da Nang Thang" while battling Snakehead.

Notable Owners:

Hazer The Snakehead Varrios Los Aztecas Da Nang Boys

Appearances in Story Missions: