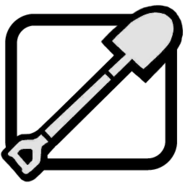 The Shovel is a weapon in the Melee Weapons class featured in Grand Theft Auto: San Andreas.
Shovel Description:
The shovel sadly cannot be used for gardening, its sole purpose in the game being as a weapon. Its effectiveness is great, as the shovel does a lot of damage to foes.
How to get the Shovel in GTA San Andreas:
The Shovel can be found and picked up around the San Andreas map (see the spawn locations in the "Appearances" section below).
Shovel: GTA SA Statistics
Damage

15.00

Fire Rate

40.00

Range

1.60
Skill Levels

No

Can Crouch

No

Can Jump

Yes

Can Sprint

No
Shovel: GTA SA Info
Weapon Class

Melee Weapons

Fire Type

Melee

Weapon Slot

2
Shovel: GTA SA Appearances
Map Locations (Spawn Areas)

Here is where to find the Shovel in GTA San Andreas:

Found in Ganton, Los Santos, in the back yard of Ryder's house.
Found in The Panopticon, Red County, under one of the Dinghy Shacks.
In Fern Ridge, Red County, by the makeshift graves just to the west of Catalina's Hideout.
Found in Palomino Creek, Red County, inside the graveyard in the southwest corner of Palomino Creek.
Found in Whetstone, by a pile of coal on the east side of the Angel Pine Junkyard.
Found In Ocean Flats, San Fierro in front of a beige and white house facing the beach.
Found in Hunter Quarry, Bone County, at the bottom of the Hunter Quarry.
Found in Prickle Pine, Las Venturas, in the northeastern part of the tennis courts for the apartment complex in northeast Prickle Pine
Found in Redsands West, Las Venturas in the Las Venturas Stadium.
Found at Pirates In Men's Pants, Las Venturas, hidden south of the Large Skull.
Sometimes, when the player crashes into an NPC car, the driver will get angered and attack them with a shovel.