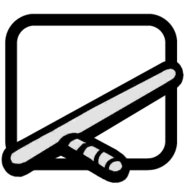 The Nightstick is a weapon in the Melee Weapons class featured in Grand Theft Auto: San Andreas. The design of the Nightstick in GTA San Andreas is based on a real life Monadnock PR-24 Control Device Baton.
This weapon also appears in Grand Theft Auto V and GTA Vice City.
Nightstick Description:
The Nightstick is lighter and smaller than the Baseball Bat, allowing for faster strikes and faster movement, while having almost the same effectiveness in close fights.
How to get the Nightstick in GTA San Andreas:
The Nightstick can be found and picked up around the San Andreas map (see the spawn locations in the "Appearances" section below).
Nightstick: GTA SA Statistics
Damage

10.00

Fire Rate

40.00

Range

1.60
Skill Levels

No

Can Crouch

No

Can Jump

Yes

Can Sprint

Yes
Nightstick: GTA SA Info
Weapon Class

Melee Weapons

Fire Type

Melee

Weapon Slot

2

Based on (Real Life)

Monadnock PR-24 Control Device Baton
Nightstick: GTA SA Appearances
Nightstick Spawn Locations in GTA San Andreas

Where to find the Nightstick in GTA San Andreas:

Found Inside the Los Santos Police Headquarters in Pershing Square, Los Santos
Found inside a small structure at the InterGlobal Studios in Vinewood, Los Santos
Found inside Dillimore's (Red County) police station.
Seen on a ramp leading to an overpass spanning the highway leading to Whetstone and Flint County in Doherty, San Fierro.
Found in Roca Escalante, Las Venturas, behind a San Andreas Police Department sign near the impound lot of the Las Venturas Police Department.
Inside the Las Venturas Police Headquarters of Roca Escalante, Las Venturas.
Drops on the ground when a cop is killed.

Notable Owners:

San Andreas Police Department