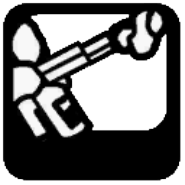 The Flamethrower is a weapon in the Heavy Weapons class featured in Grand Theft Auto: San Andreas.
This weapon also appears in GTA Vice City and Grand Theft Auto III.
Flamethrower Description:
The flame thrower is an extremely fun weapon (for a psycopath), being able to set almost everything around on fire - from people and vehicles to trees and buildings. Make sure to not get any fire spreading towards you while murdering everyone around - you still deserve to live.
How to get the Flamethrower in GTA San Andreas:
It becomes available after completing the mission Vertical Bird in Story Mode.
The Flamethrower can be found and picked up around the San Andreas map (see the spawn locations in the "Appearances" section below).
The Flamethrower also Spawns at Mike Toreno's Ranch after the mission "Vertical Bird".
Flamethrower: GTA SA Statistics
Skill Levels

No

Can Crouch

No

Can Strafe

Yes

Can Jump

No

Can Sprint

No
Flamethrower: GTA SA Info
Weapon Class

Heavy Weapons

Fire Type

Area of Effect

Available After Mission (Story Mode)

How To Unlock

Spawns at Mike Toreno's Ranch after the mission "Vertical Bird"

Weapon Slot

8

Weapon Tier

Tier 2 (Professional Cheat Set)
Flamethrower: GTA SA Appearances
Flamethrower Spawn Locations in GTA San Andreas

Where to find the Flamethrower in GTA San Andreas:

Found in Flint County, through the woods, next to a couple of shacks, near the rail tracks.
Found in Flint Range, Flint County, inside Helena Wankstein's tool shed (If Carl is dating her).
Found in Shady Creeks, Whetstone, inside the forest, near the dirt road and the dirt path crossing a shallow body of water.
Found in Doherty, San Fierro, at the construction site next to the garage, behind a collapsed portion of a building.
Found in Easter Basin, San Fierro, on top of the Export and Import ship.
Found at K.A.C.C. Military Fuels, Las Venturas, underneath a low ceiling inside the military base.
Found in Tierra Robada, inside Mike Toreno's ranch (after completing "Vertical Bird").

Notable Owners:

The Truth Los Santos Vagos

Appearances in Story Missions: