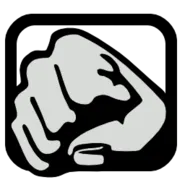 In Grand Theft Auto: San Andreas, bare-handed attacks have unique properties. The player can chain fist attacks, unleashing various different punches and kicks.
Carl Johnson can learn more powerful moves by training in the Gym, fighting and defeating Gym Trainers.
The bare fist can also damage vehicles in GTA: San Andreas. A maxed Muscle stat alongside a powerful combo can destroy a small car in less than twenty-five hits.
Melee attacks can also be chained with different Melee weapons, such as the Chainsaw.
Fist: GTA SA Statistics
Damage

10.00

Fire Rate

40.00

Range

1.60
Skill Levels

No

Can Crouch

Yes

Can Jump

Yes

Can Sprint

Yes
Fist: GTA SA Info
Weapon Class

Melee Weapons

Fire Type

Melee

Weapon Slot

1
Fist: GTA SA Appearances