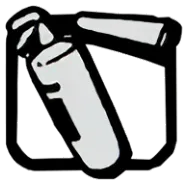 The Fire Extinguisher is a weapon in the Equipment class featured in Grand Theft Auto: San Andreas.
Fire Extinguisher Description:
With so many weapons that can set the enviroonment on fire, it's only natural to have a tool that can extuingish them. Used primarily for escaping out of flaming buildings, but also if you want to play firefighter.
How to get the Fire Extinguisher in GTA San Andreas:
The Fire Extinguisher can be found and picked up around the San Andreas map (see the spawn locations in the "Appearances" section below).
Fire Extinguisher: GTA SA Statistics
Fire Extinguisher: GTA SA Info
Weapon Class

Equipment

Fire Type

Area of Effect

Weapon Slot

10

Weapon Tier

Tier 2 (Professional Cheat Set)
Fire Extinguisher: GTA SA Appearances
Fire Extinguisher Spawn Locations in GTA San Andreas

Where to find the Fire Extinguisher in GTA San Andreas:

Found in Los Santos, Inside the Vagos gang house in East Los Santos (only during "Burning Desire").
Found in Los Santos, Inside Big Smoke's crack den in East Los Santos (only during "End of the Line").
Found in Los Santos, inside the kitchens of The Well Stacked Pizza Co. and Burger Shot restaurants.
Found in San Fierro, at the Xoomer gas station in the Easter Basin district, at the south end of the main building.
Found in Las Venturas, inside the Sindacco Abattoir in Whitewood Estates (only during "The Meat Business").
Found in Las Venturas, in the Spinybed district of Las Venturas, at the Xoomer gas station just east of Millie Perkins' house.
Found in Whetstone, outside the small gas station in Whetstone, adjacent to the 24/7 along the main highway, just southeast of Angel Pine. Found in Bone County, In Valle Ocultado, at its east end, next to the Gas Station.

Notable Owners:

Zero The Ballas Los Santos Vagos

Appearances in Story Missions:

Similar Weapons