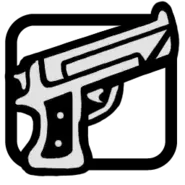 The Desert Eagle is a weapon in the Pistols class featured in Grand Theft Auto: San Andreas. The design of the Desert Eagle in GTA San Andreas is based on a real life IMI Desert Eagle.
This weapon also appears in Grand Theft Auto V and Grand Theft Auto IV.
Desert Eagle Description:
An extremely powerful handgun, the Desert Eagle provides strong fire power, but also great recoil. Increasing the skill level of the weapon will help with its disadvantages, allowing for deadly shots even from very far away.
This weapon has three Skill Levels you can progress through: Poor, Gangster and Hitman. Reaching the Hitman level allows you to fire while moving and improves lock-on range, accuracy, rate of fire, and strafe speed when using the weapon.
How to get the Desert Eagle in GTA San Andreas:
The Desert Eagle can be purchased from Ammu-Nation for a price of $1,200 (or 20% higher in Las Venturas).
It becomes available after completing the mission Black Project and You've Had Your Chips in Story Mode.
The Desert Eagle can be found and picked up around the San Andreas map (see the spawn locations in the "Appearances" section below).
Desert Eagle: GTA SA Statistics
Damage

70.00

Fire Rate

10.00

Accuracy

10.00

Range

30.00
Skill Levels

Yes

Can Crouch

Yes

Can Strafe

Hitman LVL

Can Jump

Yes

Can Sprint

Yes

Ammo Capacity

r
Desert Eagle: GTA SA Info
Weapon Class

Pistols

Fire Type

Instant Hit

Available After Mission (Story Mode)

Story Mode Price

$1,200

Weapon Slot

3

Weapon Tier

Tier 2 (Professional Cheat Set)

Based on (Real Life)

IMI Desert Eagle
Desert Eagle: GTA SA Appearances
Desert Eagle Spawn Locations in GTA San Andreas

Where to find the Desert Eagle in GTA San Andreas:

Grove Street Families hold this gun after all 100 Tags are Spray Painted.
Available for purchase at Ammu-Nation after Black Project for $1200.
Found in Playa Del Seville, Los Santos, on the corner of the wire fence around the beach.
Found in Whetstone, on the southwest corner of the warehouse in the junkyard.
Found in Garcia. San Fierro, in a small enclosure in front of STW: Books.
Found in Bayside Marina, Tierra Robada, in the corner of a wall of a house, in a row of white houses.
Found at Lil' Probe'Inn in Bone County, under a solar panel in the trailer park.

Notable Owners:

Sweet Johnson Eddie Pulaski Cesar Vialpando Catalina Emmet Grove Street Families Varrios Los Aztecas Seville Boulevard Families Temple Drive Families The Mafia C.R.A.S.H. San Andreas Police Department

Similar Weapons