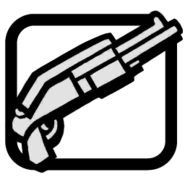 The Combat Shotgun is a weapon in the Shotguns class featured in Grand Theft Auto: San Andreas. The design of the Combat Shotgun in GTA San Andreas is based on a real life Franchi SPAS-12.
This weapon also appears in GTA Online, Grand Theft Auto IV and GTA Vice City.
Combat Shotgun Description:
The semi-automatic Combat Shotgun's fire power is only slightly higher than that of the usual shotgun, but its relatively quick fire rate allows plowing through enemies quite easily.
This weapon has three Skill Levels you can progress through: Poor, Gangster and Hitman. Reaching the Hitman level allows you to fire while moving and improves lock-on range, accuracy, rate of fire, and strafe speed when using the weapon.
How to get the Combat Shotgun in GTA San Andreas:
The Combat Shotgun can be purchased from Ammu-Nation for a price of $1,000 (or 20% higher in Las Venturas).
It becomes available after completing the mission You've Had Your Chips in Story Mode.
The Combat Shotgun can be found and picked up around the San Andreas map (see the spawn locations in the "Appearances" section below).
The Combat Shotgun also Spawns at The Four Dragons Casino after collecting all 50 Horseshoes.
Combat Shotgun: GTA SA Statistics
Damage

120.00

Fire Rate

30.00

Accuracy

20.00

Range

40.00
Skill Levels

Yes

Can Crouch

Yes

Can Strafe

Hitman LVL

Can Jump

Yes

Can Sprint

No

Ammo Capacity

7
Combat Shotgun: GTA SA Info
Weapon Class

Shotguns

Fire Type

Instant Hit

Available After Mission (Story Mode)

How To Unlock

Spawns at The Four Dragons Casino after collecting all 50 Horseshoes

Story Mode Price

$1,000

Weapon Slot

4

Weapon Tier

Tier 3 (Nutter Cheat Set)

Based on (Real Life)

Franchi SPAS-12
Combat Shotgun: GTA SA Appearances
Combat Shotgun Spawn Locations in GTA San Andreas

Where to find the Combat Shotgun in GTA San Andreas:

Found at The Four Dragons Casino in Las Venturas (After collecting all 50 horseshoes).
Found at the LVA Freight Depot in Las Venturas, in the northwestern part of the district, hidden in some bushes.
Available for purchase from Ammu-Nation for $1000 after completing "You've Had Your Chips".
Found inside Big Smoke's Crack Palace during "End of the Line".
Found inside Area 69, in a dead-end corridor by the laboratory.

Notable Owners:

Big SmokeC.R.A.S.H.Frank TenpennySan Andreas Police Department

Appearances in Story Missions:

Similar Weapons